Significant Natural Areas
If you are looking at this webpage, it is likely that you were sent a letter from WDC last year telling you that we think your property contains an area(s) which is a potential SNA.
Please let us reassure you that any land identified as an SNA remains in your ownership. Also, there is no requirement for you to fence the SNAs, to stop grazing stock in them or to stop doing any other lawfully existing activity.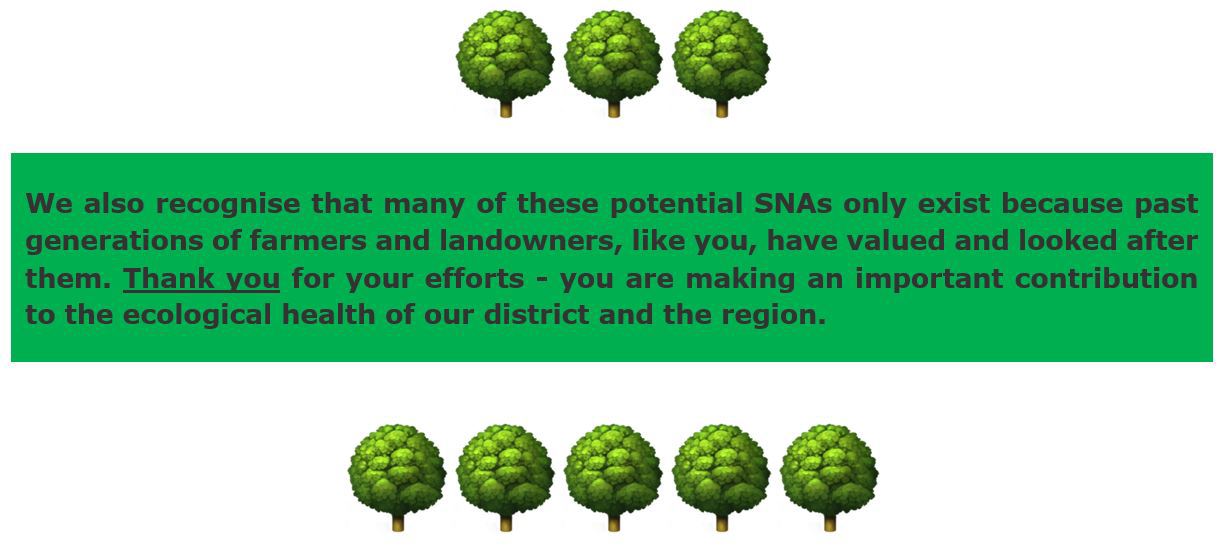 Find my SNA
You can use the link below to see all of the potential SNAs in the Waikato Region of Waitomo District.
To find your property you can use your valuation number or you can type your address into the search box. Otherwise, just zoom in and out on the areas of the District that you are interested in.
Over the past four months, WDC has been working with landowners where there were concerns about the location of an SNA boundary. In some instances we were able to fix the issues quickly. In other cases our ecologists are assessing the sites.
Once the ecologists have made their decisions, the SNAs will be mapped as part of the new District Plan. If you would like to, you can to make a formal submission to the new District Plan when it is notified this year. You'll receive a letter closer to that time letting you know that the new District Plan has been notified and setting out the timeframe for submissions.
What is the difference between international, national, regional and local SNAs?
In addition to assessing each potential SNA against 11 significance criteria, the Waikato Regional Council require us to assign each area a level of significance – international (RED), national (ORANGE), regional (GREEN) or local (BLUE) – to enable prioritisation of resources when assisting in the protection of these areas. The table below shows significance levels with reasons and examples:
Significance levels

Main reasons for significance

Site examples

Internationally significant

Recognised as ecologically important at an international level, such as a RAMSAR site or World Heritage Area.
The best or only remaining large representative example in New Zealand of a suite of relatively intact indigenous ecosystems and ecological sequences.
The sites that have been used as a key habitat for international migrating species that would be threatened if habitat was lost. Or sites that contain distinct populations of acutely threatened species or species endemic to the Waikato region.

Tongariro National Park, Whangamarino Swamp, Kopouatai Peat Dome and the Firth of Thames estuary.

Nationally significant

Recognised as ecologically important at a national level.
Good quality example of nationally underrepresented ecosystem, or originally rare ecosystems, such as karst (limestone).
The sites have been used on an ongoing basis for very threatened species, such as brown kiwi and North Island weka.

DOC Kaimai-Mamaku Conservation Park. Ruakuri Caves and Bush Scenic Reserve.

Regionally significant

Recognised as ecologically important at a regional level. Good quality examples of regionally underrepresented habitat types, such as our best dune systems or largest mangrove-filled estuaries.
The sites contain populations of sparse species, such as longfin eel, hochstetter's frog and moko skink.

Lake Okoroire, Tarariki Reserve in the Hauraki district, Waihou River native forest fragment.

Locally significant

These sites may not be highly significant in their own right, but can play an important part in a network of natural areas. For example, a locally significant site might be important as a seasonal feeding or breeding area, rather than habitat for threatened or sparse species. It might also act as a stepping stone between other natural areas, allowing wildlife to move around in search of food or mates.

Areas of native habitat scrub on the foothills of the Kaimai-Mamaku range.