Standing for Council
Candidate Information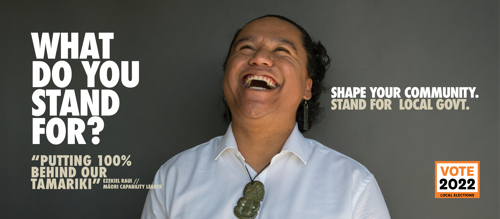 A candidate standing for a district or regional council must be:
a New Zealand citizen; and
a parliamentary elector (anywhere in New Zealand).
The following restrictions apply for candidates for a district council and regional council:
A candidate may stand for election for mayor and district council within the same territorial authority district, but may not also stand for election to a regional council of which the territorial authority is part, i.e. a candidate may stand for either the district council or the regional council but not both.
A candidate may not stand for more than one ward or more than one constituency of the same local authority.
Where a territorial authority has a mixed at large and wards system of representation, a candidate may not stand for councillor both in a ward and at large for that territorial authority (section 57B LEA).
A candidate cannot be a person concerned or interested in contracts over $25,000 with the local authority. This restriction is waived if prior approval is obtained from the Office of the Auditor-General.
Any person who wishes to be a candidate while subject to a Court Order under section 31 if the Protection of Personal and Property Rights Act 1988 should take legal advice.
An employee of a local authority who is elected as mayor or councillor of that local authority must resign as an employee before taking up his/her position as an elected member. The rules of an individual local authority may require an employee to take leave of absence for campaigning purposes prior to the election.
Candidate Handbook

Click here (PDF 6.38 MB) to download and view the Candidate Handbook
Click here (PDF 183 KB) to download the Electoral Expenses and Donations Form
Click here (PDF 91 KB) to read the rules about signage during the local elections
Positions in this election
Waitomo District Council
(a) Election of the Mayor
(b) Election of six (6) Councillors as follows:
| | |
| --- | --- |
| Te Kuiti Ward | three (3) Councillors |
| Waitomo Rural Ward | three (3) Councillors |
Waikato Regional Council – (WRC)
Election of two (2) Councillors to represent the Waipa-King Country constituency.
There will be a separate candidate handbook for the WRC election available from the Waikato Regional Council on free phone 0800 800 401.
Elections 2022 - Candidate information | Waikato Regional Council
--
Important Documents
If you are considering standing for Council, if would help if you became familiar with these plans and reports
Annual Plan 2022/23 (PDF 9.25 MB)
Maangai Taunaki
Maangai Taunaki is a series of wānanga, which aims to support great Māori candidates, campaign teams and engaging champions in local democracy. 
Click the links below to check out the wānanga:
Session 1: Planning an effective campaign
Session 2: Building a platform and a message
Session 3: Being visible in your community and managing media (scheduled for 31 May 2022)