What you need to know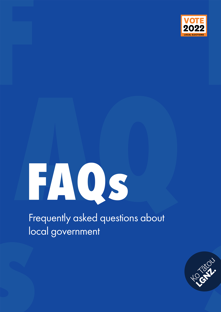 Frequently Asked Questions about Local Government (PDF 1.14 MB)
Frequently Asked Questions - Enrolling
Who can vote?
Anyone who is correctly enrolled can vote in the local elections where they live. To vote in a local body election you need to be registered on the electoral roll. you can enrol to vote at anytime.
You're eligible to enrol and vote if you:
are 18 years or older
a New Zealand citizen or permanent resident
have lived in New Zealand for more than 12 months continuously at any time
have lived at your current address for more than 1 month
are a non-resident ratepayer who has applied for enrolment on the ratepayer roll
Every eligible person in a household can enrol and post their own individual vote.
If you're enrolled for the general election for Parliament, you'll automatically be placed on Council's electoral roll.
If you're of Māori descent and enrolling for the first time, you'll be able to choose if you wish to register on the Māori roll or the general roll.
How do I enrol to vote in these elections?
If you answer YES to the following:
Is this your main place of residence?
Have you lived at your current address for more than one month?
Are you on the Parliamentary Electoral Roll at an address in the Waitomo District?
You will automatically appear on the roll that is used for these elections.
OR
If this is your main place of residence but you are not, or do not know if you are on the Parliamentary Electoral Roll at an address in the Waitomo District, you will need to enrol.
--
The Electoral Commission has made it even easier for voters to enrol and update their details. You can enrol or update your details online at Vote NZ using your New Zealand driver licence, New Zealand passport or a RealMe verified identity.
If you are not able to enrol online, there are other ways to enrol or to update your details. Go to other ways to enrol for more information.
If you're not sure if you're enrolled or your details have changed, check or update your details online, or call 0800 36 76 56.
If English is not your first language, Vote NZ has multilingual information about enrolling to vote. Click here for further information.
I own property in the Waitomo District, but I don't live here. Can I vote?
If you own property in the Waitomo District, but are not a resident, you are still eligible to vote as a ratepayer elector.
Download the Ratepayer Elector application form here (PDF 177 KB)
Click here for the Ratepayer Elector Enrolment Portal
I am a New Zealand Māori, do I need to enrol on the Māori roll?
Not necessarily. If you are enrolling for the first time you can decide whether you want to go on the Māori Electoral Roll or the General Electoral Roll by signing the appropriate panel on the Parliamentary Elector Enrolment form.
However, if you have already made that choice you will have to wait until the next Māori Option period to change, which occurs following the next Census, likely in 2023. The last Māori Option period was in 2018.
Enrolment information in New Zealand Sign Language
Enrolment information in New Zealand Sign Language
Frequently Asked Questions - Voting
When is the next Local Government elections?
Election Day is Saturday 8 October 2022 and voting closes at 12 noon on that day. The voting period starts on Friday 16 September 2022.
How will I receive my voting papers?
All local authority elections will be conducted by postal vote. Voting documents will be delivered by NZ Post between Friday 16 September 2022 and Wednesday 21 September 2022.
Who are Electoral Officers?
Each local authority must appoint an Electoral Officer and a Deputy Electoral Officer. Electoral officers are responsible for all matters relating to a particular election or poll.
Electoral officers carry out their designated duties under the Local Electoral Act 2001 and any other enactment where they have legislative responsibilities. One of the key requirements of their role is that they manage elections independently of the elected body. Another key requirement is that they maintain the security of electoral records and the secrecy of the vote.
Special Voting
Special Votes are available:
- If your name does not appear on the final electoral roll, but you will nevertheless qualify. Usually this is when you have enrolled after the roll closed
- If you did not get a voting paper that had been posted
- If you spoiled or damaged a voting paper
- If you are going to be overseas over the election period
- If you are on the unpublished roll
You can either pick up your special voting pack from Waitomo District Council, or we can post it out to you. However, the completed voting papers must be returned to the Electoral Officer in the envelope supplied. This is very important as special votes also require the completion of a statutory declaration - it's a legal requirement, and it also offers electors protection against possible duplicate voting.
If you want to make a special vote, but you are not on the Parliamentary Roll (for example you may have just turned 18), you must enrol at a Post Office during normal business hours. Special vote declarations are forwarded to the Registrar of Electors who check you are eligible.
Note: Special Votes cannot be collected by candidates or their assistants for distribution to electors