Vibrant Safe Waitomo
Vibrant Safe Waitomo (VSW) is a collaboration that brings community groups together to support activities and projects that will contribute to the Waitomo District being safer and ultimately a better place to live, love, visit, work, and play.
VSW is about all sectors of the community working in a joined-up way to promote safety and increase opportunities for our communities.
For the past three years, community stakeholder groups, support agencies and government organisations from throughout the Waikato region and Waitomo district have been working alongside Waitomo District Council implementing the strategy.
In May 2020 we proposed to the VSW Regional Coalition that consideration be given to temporarily change its focus to recovery in response to the COVID-19 Pandemic, this change was approved and from this our action plan for 20/21 developed.
Waitomo District Council and the VSW Regional Coalition is now pleased to present the Action Plan 2022/2023 E Whanake Ana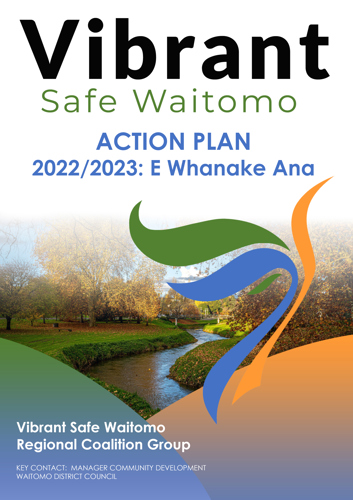 Our Action Plan 2022/2023: E Whanake Ana  
Service providers within the Waitomo community are already working hard to deliver programmes and actions which aim to make our communities safer and vibrant. The intention of this document is to provide a snapshot of those actions which best align with the goals and priority areas within the strategy, or the actions which seek to provide additional programmes or services to what is currently being delivered within the community.
This does not represent everything being undertaken by service providers within the Waitomo community and it is a living document that will be reshaped by constant evaluation. What this action plan does represent is a commitment to a new way of working.
2022/2023 Action Plan
2021/2022 Action Plan (PDF 1.36 MB)
2020/2021 Action Plan (DOCX 137 KB)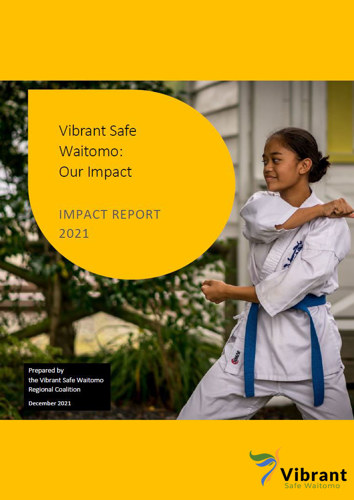 2020/2021 VSW Impact Report (PDF 2.67 MB)
Our Strategy
VSW strategy has  three primary strategic themes that are suited to promoting better safety outcomes:
Whanau/Families
Mahi/Workplaces
Hakinakina/Recreation
Underpinning all three of these is a fourth theme of
Kotahitanga/Connected Leadership,
which is a hugely important aspect for all the work Vibrant Safe Waitomo and our community partners endeavour to undertake.
View the VSW Strategy here (PDF 2.7 MB)
Our regional Coalition
Maniapoto Maori Trust Board
Waikato District Health Board
Accident Compensation Corporation
New Zealand Police
Ministry of Education
Fire and Emergency New Zealand
Ministry of Social Development
Oranga Tamariki Ministry for Children
Integrated Safety Response
Representative for MP for Taranaki – King Country
Waitomo District Council
Legendary Te Kuiti
WDC is committed to:
Coordinating the efforts of VSW to help create a safer community for all.
Helping young people across the District to achieve the next level of drivers licencing by supporting the Novice Driver Training Programme in collaboration with our funding partner Waka Kotahi
Helping local people into employment by providing support for training and employment initiatives through the Mayors Taskforce for Jobs.
Supporting housing development initiatives.
The Journey
During the consultation phase of the 2018 Long Term Plan process the Waitomo District supported a new approach from us to work towards a safer and more vibrant district. In response to this the work began to paint a picture of what had worked in the past, who some of the partners were that wanted similar outcomes for our residents and what we planned to do next.
To guide this work, an application to Safe Communities Foundation NZ was made.
Please click here for Vibrant Safe Waitomo Application (PDF 14.33 MB)
Want to be a part of the Journey?
If you would like to discuss parts of Vibrant Safe Waitomo please contact our Manager -  Community Development
Phone: 07 8780800 or email [email protected]