Vibrant Safe Waitomo
The Waitomo District Council (WDC) is set on a new pathway to increase safety and vibrancy through working in partnership with our residents.  
Vibrant safe Waitomo - The Journey

During the consultation phase of the 2018 Long Term Plan process the Waitomo District supported a new approach from the WDC to work towards a safer and more vibrant district. In response to this the work began to paint a picture of what had worked in the past, who some of the partners were that wanted similar outcomes for our residents and what we planned to do next.
To guide this work, an application to Safe Communities Foundation NZ was made.
Please click here for Vibrant Safe Waitomo Application (PDF 14.33 MB)
Vibrant Safe Waitomo Strategy
The Vibrant Safe Waitomo Strategy is a community led collaboration that provides leadership and direction, focusing on partnerships to create a safer community for all. The strategy has been developed by the Vibrant Safe Waitomo Regional Coalition Group, with input from community stakeholder groups and service providers. It is also informed by existing international, national and local strategies and the results of research into the specific needs of this community.
Through analysing data sets, gathering information and cross referencing we have been able to determine the main areas of work to focus on along with the populations and demographics to support using an equity lense.
The findings have been filtered down to identify three primary strategic themes that are suited to promoting better safety outcomes:
Whanau/Families
Mahi/Workplaces
Hakinakina/Recreation
Underpinning all three of these is a fourth theme of
Kotahitanga/Connected Leadership,
which is a hugely important aspect for all the work Vibrant Safe Waitomo and our community partners endeavour to undertake.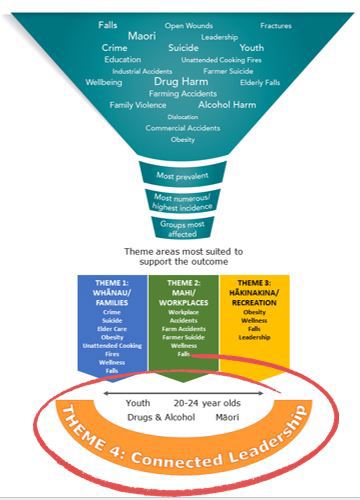 Please click here for Vibrant Safe Waitomo Strategy (PDF 2.7 MB)
Vibrant Safe Waitomo Action Plan 2019/2020
This is the first action plan developed in support of the Vibrant Safe Waitomo Strategy 2019-2024. It details actions which support the goals and priority areas identified in the strategy which are planned or underway in the 2019/2020 year.
This action plan was signed off by the Vibrant Safe Waitomo Regional Coalition in December 2019.Therefore, this initial document will cover the first six months of the strategy and is designed to be a starting point for future action plans which will cover a full 12 month period.
Service providers within the Waitomo community are already working hard to deliver programmes and actions which aim to make our communities safer and vibrant. The intention of this document is to provide a snapshot of those actions which best align with the goals and priority areas within the strategy, or the actions which seek to provide additional programmes or services to what is currently being delivered within the community.
This does not represent everything being undertaken by service providers within the Waitomo community and it is a living document that will be reshaped by constant evaluation. What this action plan does represent is a commitment to a new way of working for the WDC.
Please click here for Vibrant Safe Waitomo Action Plan. (PDF 1.21 MB)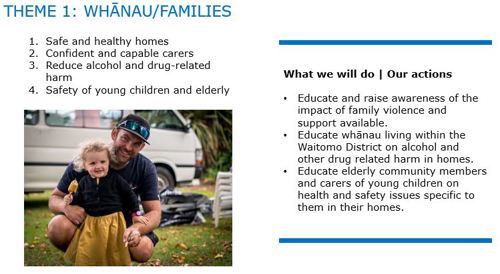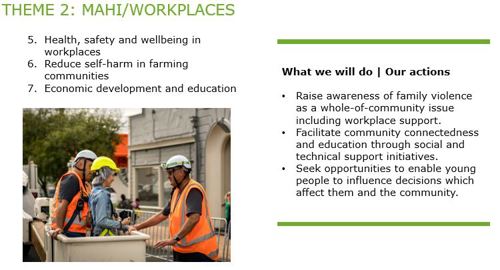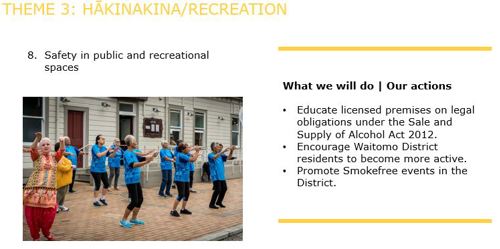 What Next with Vibrant Safe Waitomo
The 2020, 6 month Action Plan will be reported against and evaluated
The Regional Coalition and Action Plan project Leads will look at what worked and what needs improvements
The Regional Coalition will research other best practice models and initiatives that can support in resourcing the Vibrant Safe Waitomo journey to continue to grow
The development of the 2020 - 2021 Vibrant Safe Waitomo Action Plan
Want to be a part of the Journey?
If you would like to discuss parts of Vibrant Safe Waitomo please contact Waitomo District Council, Community Development Coordinator – Clowdy Ngatai - Nau mai!
Ph. 07 8780800 or email on clowdy.ngatai@waitomo.govt.nz