History of Motakiora
Located on the northwestern high point of the reserve is the site of what was the fortified Maori Pa known as Motakiora1. It was constructed probably sometime in the 17th century, by Rora, a son of Maniapoto. This hill is known locally as Ben Lomond, however the name Motakiora takes precedence.
Located at the bottom of the Motakiora hill is a flat area (which includes the sites where the railway houses are built) known as Tokipuhuki (Blunt Axe) Flats. The name is a mystery, but possibly a canoe was once built here and the name refers to problems struck during construction.
It is not known how long Maniapoto and his people were living at the mouth of Te Kuiti-tanga, the name given later to the entrance to the gorge, when a tribe from the east coast migrated and built themselves a home and fortification on a high point on the long ride of Pukenui, overlooking the Waitete Valley from the west. The leader and chief of the new settlers was one named Houtaketake. They had not settled very long before they became over-familiar and gave outward signs of possessiveness. Houtaketake, seeing Maniapoto standing in the midst of his warriors, challenged him to single combat.
By a ruse, Maniapoto easily killed his opponent and it is stated from historical accounts that the enemy, seeing the sudden fall of their leader by a simple manoeuvre, turned and fled from the pa. This sudden move only sparked the warriors of Maniapoto to the chase. Only a few of the enemy managed to escape with their lives, never to return to their pa.
From then on the people lived in peace. Maniapoto's son Rora grew up to manhood and travelled with his parents and older brothers from pa to pa within their domain. Rora attended the school of learning along with other young men of his age and learnt the Maoritanga of his people.
After Rora had qualified in the applied tests in both physical and mental spheres, the ceremony of match-making, selection of husband and wives, was held. Rora was married to Kuranui who, however, did not live long. It was not long after this that a Chief of Poutama, a pa on the banks of the Mokau River, invited Maniapoto and his people to a function and feast which culminated in the match-making of young men and women. He presented a young girl named Kuramonehu to Maniapoto for a wife for one of his sons, and was subsequent accepted by Rora.
After the marriage ceremony, Maniapoto and his people returned to Otewa, and Rora and his wife settled on Motakiora. Later Kuramonehu indicated her wish to see her people in the Mokau district. Her husband agreed. She stayed away for a period and on her return Rora noticed that she was not as affectionate or attentive as he would have hoped she would be. She appeared to be more interested in a young man of her people, Tautini, who came with her. Rora became suspicious, took his wife to task and in fear she admitted her offence. Consequently Rora clubbed Tautini down.
There was immediate excitement and the young man's people decided to leave rather than attack the slayer. They did not travel very far but decided to camp and send a messenger for reinforcements. Under cover of darkness and with the help of Kuramonehu from within the pa, Motakiora was invaded and Rora was killed. During the commotion a messenger left to warn Maniapoto of the attack and immediately raised a warparty. They did not attack the pa until they were quite certain that the enemy had settled down to their morning meal. Then they crept in quietly and took them by surprise. A number had been killed before Maniapoto called a halt to the fighting. A court was held as to the reason why Rora was killed and when the facts were presented Maniapoto and his younger brothers agreed that there was some justification for putting him to death. Peace was declared between the two peoples and this was welded further by later marriage.
Today, Motakiora stands like a sentinel over the "gateway" to Te Kuiti. Denuded of the
giant totara, rimu and other native trees, her crown bare of the once protective
palisades, green grass now covers her like a mantle, adorned with trees of foreign
species here and there breaking the monotony and affording pitiful shade and shelter -
her former glory gone forever.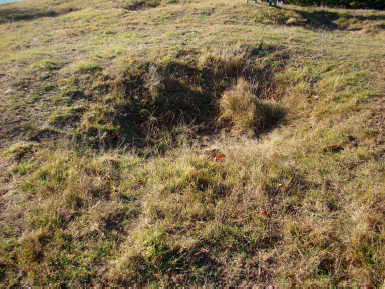 References
1. Morgan B. (Ed) "Historic Maori Place names - from the Waipa River to the

Mokau".
2. "Enquire Within" 1970-71 Te Kuiti and Piopio produced by Te Kuiti Jaycee Inc.
3. Craig R.S. 1978 "Land of the Maniapoto" published King Country Chronicle Ltd,

Te Kuiti.
4. Kerry-Nichols J.H. 1974 "The King Country" First published 1884. Reprint

published Capper pres. Christchurch, N.Z.