Timber Trail
The Timber Trail - Pureora to Ongarue
The Timber Trail is a two day cycling experience or three to four day walk. Visitors can also complete a section of the Trail to enjoy a one-day experience. 
The Trail follows well graded former tramways and logging roads through Pureora Forest Park. 
Accommodation is available in Maniaiti / Benneydale, Te Kuiti and Waitomo Village.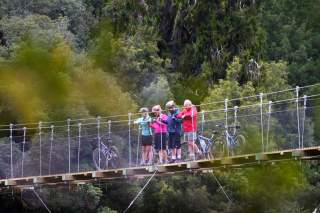 Timber Trail Marketing Strategy
Waitomo District Council and Ruapehu District Council have made a joint commitment to fund a marketing role for the Timber Trail cycleway for a three year period. A three-year marketing strategy and a one-year tactical marketing plan has been developed.
The objectives of the strategy are:
To establish a clear and consistent brand, imagery and story that all stakeholders can use to promote the trail.
To establish a strong digital presence for the trail that is backed up by timely expert advice and booking assistance.
To develop and curate content for the purpose of targeted marketing of the trail.
Support the development of packaged Timber Trail experiences to entice visitors to stay longer and spend more time enjoying their trip.
View the Timber Trail Marketing Strategy here. (PDF 1.25 MB)