Waitomo District Citizens Awards
Citizens Awards 2020/21
Six Waitomo District residents have been honoured for their contribution and dedication to the community.
Fay Pascoe received the Citizens Award for her voluntary work spanning more than 50 years and always helping those in need.
Reverend Barney Winikerei, Brian Hanna, Kevin Forgeson, Shirley Pierce and Val Brett all received a Lifetime Achievement Award.
The Citizens Award acknowledges a resident who has demonstrated an outstanding community focus, and been involved in community projects or initiatives that have resulted in positive outcomes for the Waitomo District.
Recipients of the Lifetime Achievement Award will have, over several years, demonstrated an outstanding community focus through their involvement in community projects and initiatives, and by doing so making a significant difference within the Waitomo District.
Waitomo District Council Manager Community Development Clowdy Ngatai says it has been a privilege to organise an event to celebrate the incredible achievements of our local heroes.
"They are the fabric of our community, and our district is a better place because of their contributions. And standing along beside them is their whanau and friends, who also play an important part in supporting our community stalwarts.
"I mihi all of them, and also to those in our community who may not have yet been recognised for the amazing work they do.
"We are very fortunate to live in such a giving community."

The Awards take place on a biennial basis with recipients being selected by Waitomo residents via a formal nomination process. The working party, which chooses the award recipients, comprises an elected member and three community members.
Previous Waitomo Citizen Award winners:
Hilary Karatiana, Sandra Squier, Terry Bradley, Desiree McKenzie, Sheryl Johnson and 2018 joint winners Shelley Mitchell and Vicki Coll.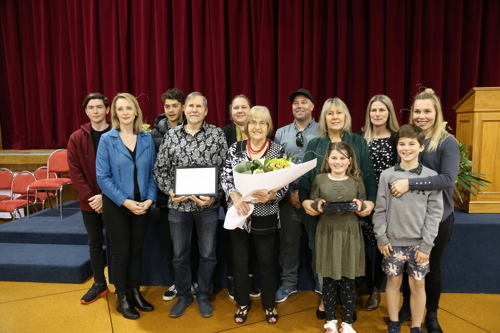 Our citizen awards policy can be found here (PDF 99 KB)