Walks and Reserves
The Waitomo District has a number of beautiful walks.  Many of these are gentle walks to be enjoyed by all.
Brook Park, Te Kuiti
Brook Park is one of the most significant reserves within the district and provides a leisure reserve for resident and visitors as well as protects the community's heritage.  Please note that the access way is restricted to pedestrian access only for reasons of public safety. 
Mangaokewa Reserve
The Mangaokewa Reserve is located approximately a five minute drive south of Te Kuiti township adjacent to State Highway 30.  The walk is a mix of river side, stunning native bush, water falls and open farmland.  The Reserve provides a variety of great tramping tracks that form part of the Te Araroa Trail. The Mangaokewa Reserve is managed by the Department of Conservation.
Marokopa Falls
The 30 metre high falls are often described as the most beautiful in the country!
Take the short track (30 minutes return) to a platformed area for a spectacular view of the falls.  Marokopa Falls are a short drive approximately two kilometres) from Piripiri Cave.
Location: 30 km west of Waitomo Caves Village on Te Anga Road.
Duration: 30 minutes return
Piripiri Caves
Look at the layers of giant oyster fossils towards the back of the cave. This cave is not operated commercially so you are on your own.  You will need a torch, as there is no natural lighting in the cave, and boots as the cave floor is slippery.
Location: 28 km west of Waitomo Caves Village on Te Anga Road
Duration: The walk to the cave takes about five minutes but the amount of time you spend in the cave is up to you.
Pureora Forest Park
Visit Pureroa, to experience nature at its best. Take a Mt Pureora track to see some of the best views of the region, taking in Lake Taupo and Mt Ruapehu. See the giant totara trees and dense rimu forest.  For further information visit the Te Kuiti Department of Conservation Office, Taupiri Street, Te Kuiti. www.doc.govt.nz
Location: 45 minute drive from Te Kuiti
Ruakuri Bush and Scenic Reserve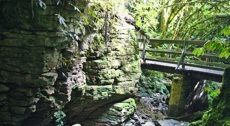 The Ruakuri Natural Tunnel Walk is one of the most remarkable free activities you can enjoy during your King Country stay.  The walk includes limestone and native bush, tunnels and glowworms at night.
Location: 5 minutes drive from Waitomo Caves Village
Duration: 45 Minutes
Te Araroa - New Zealand's Trail
The 3000km route stretching from Cape Reinga in the North of New Zealand to Bluff in the South was officially opened December 3rd, 2011 by the Governor-General of New Zealand, Sir Jerry Mateparae.  Te Araroa is the greatest New Zealand adventure there is.  Te Araroa passes through Te Kuiti, and goes deep into the central North Island forests before exiting at the foot of Mt Tongariro.  Visit Te Araroa website here.