Footpath Improvement Programme 2018-2021
Safe and accessible walking and cycling facilities help make our towns more liveable, contributes to healthier communities, and supports tourism.
Waitomo District Council (WDC) manages approximately 49km of footpaths in Te Kuiti, Mokau, Piopio, Benneydale and Marokopa.
The original construction of the WDC footpath network took place in 1994, however, there has been no major investment in new footpaths or renewals in the last 25 years.
Many of the footpaths were constructed to narrow widths (nearly 40% are less than 1.0 metre wide and 80% are less than 1.4 metre), and are showing signs of deterioration. The standard footpath width is 1.5 metres.
The 2018-21 National Land Transport Programme (NLTP) represents the NZ Transport Agency's (NZTA) commitment to provide New Zealanders with a safe, accessible, efficient and connected transport system.
WDC has planned a three-year footpath improvement programme as part of its Long Term Plan 2018-28 (LTP). The programme has been approved for subsidy at NZTA's funding assistance rate of 73%. With the support of NZTA, our local communities will benefit from much-needed investment in the district's footpath network. Year two of our footpaths programme (2019/20) is now underway.
The footpath programme has been approved for subsidy at NZTA's funding assistance rate of 73%

LTP 2018/19

(Year 1)

LTP 2019/20

(Year 2)

LTP 2020/21

(Year 3)

Footpath Renewals

$395,232
$403,927
$412,622
Footpath Improvements
$113,132
$127,051
$127,657

$508,364
$530,978
$540,279
The focus of our footpath programme is to improve access to high priority pedestrian areas connecting with hospitals, schools and businesses, by renewing existing footpaths that are in poor condition (cracked and damaged) and widening footpaths to the standard of 1.5 metres.
As part of the renewal of some sections of footpath, it is necessary to also renew the associated vehicle crossing points; to adjust the gradient, surface or material of the crossing and cross-fall, mainly for safety purposes and to allow for adequate storm water drainage. As illustrated in figure 1, some vehicle crossings are extended from the footpath into the boundary of the adjacent private property to avoid contact between the bottom of a vehicle and the vehicle crossing.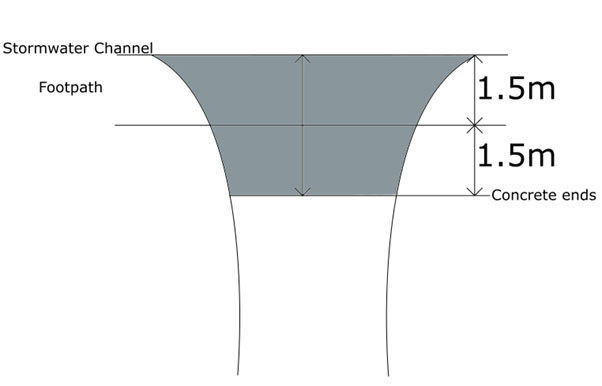 We have also considered other safety improvements under this programme:
Erosion protection measures for earth walls (to provide stability and strength to the footpath on top of the wall).
Widening of ramps for the safety of mobility scooter users.
Construction of new footpath and Kea crossing on Mine Road in Benneydale for the safety of school children walking to Benneydale School.
Widening of footpaths in Piopio to NZTA's minimum standard width of 1.5 metres.
Widening of footpaths in Mokau to NZTA's minimum standard width of 1.5 metres.
As always, we welcome your feedback on our project. You can email us at [email protected], call 07-878-0800 or visit us at the WDC Office, Queen Street Te Kuiti.