Digital knowledge and awareness
On this page you can read articles, get instructions, tips and advice to guide you on your digital journey and improve your knowledge of technology and digital services.
Digital Citizenship Assessment
How good are your Digital skills? Take a 10-minute test to find out.  After completing this assessment you will be provided with a personalised action plan to help you improve your online skills.  Plus you will be see how your skills compare to others in our digital benchmark assessment.  
Online assessment for Businesses
Take the free online assessment and discover how digital technologies can benefit your business and streamline operations. Visit www.digitaljourney.nz
How did you go? 
The action plan provided to you can help you gain the knowledge and skills you need. If there are any recommendations for courses or activities that are currently not available in the Waitomo District, then we would be interested in hearing from you.
Internet Security
Can you easily identify which websites to trust and which ones may contain misinformation?
Many people are using online technology to learn, whether it's to look up the meaning of a word, how to do something, or to find out more information on a topic. Common places to find information include; wikis, blogs and the use of search engines such as Google.
However, not all websites are reliable sources of information, so it's important you can identify which websites to trust.
NetSafe is an independent non-profit organisation that promotes confident, safe, and responsible use of online technologies.
Younger children will enjoy a visit to Silicon Deep where Hector the Dolphin and his friends learn some important online safety lessons. Note: this website uses Flash and will not work on all computers and mobile devices.
3G and 4G - what does this mean?
4G is the shortened name for the fourth generation of the wireless data transmission networks set-up by the mobile phone industry in order to offer more bandwidth and greater speeds for everyday mobile device operations, such as messaging, video calling and mobile TV.
3G stands for "third generation", as it is the third type of access technology that has been made widely commercially available for connecting mobile phones.
The 3G services work using a "cellular" based technology; the signals are passed from phone tower to phone tower, and then the tower nearest the phone passes the signal to it.
What is 4G extended coverage?
4G Extended is better at providing coverage when travelling long distances such as in rural locations, and penetrating walls and buildings.
The following devices can use both 4G 1800 and 4G Extended:
Apple iPhone 6s
Apple iPhone 6s Plus
Apple iPhone 6
Apple iPhone 6 Plus
Apple iPad Air 2
HTC One M8
HTC One M9
Microsoft Lumia 640
Samsung GALAXY A3
Samsung GALAXY A5
Samsung GALAXY Alpha
Samsung GALAXY Core Prime
Samsung Galaxy J5 
Samsung GALAXY Note 4
Samsung GALAXY Note 5
Samsung GALAXY S5 (SM-G900i variant only)
Samsung Galaxy S6
Samsung Galaxy S6 edge
Samsung Galaxy S6 edge +
Samsung GALAXY Tab A 9.7
Samsung GALAXY Tab Active
Samsung GALAXY Tab S 10.5
Sony Xperia E4g
Sony Xperia Z5 Compact
Devices - what are they and how do they work?
In general, a device (sometimes referred to as a gadget) can refer to any electronic device including a laptop, tablet, and smartphone.
A mobile device is basically any handheld computer, designed to be extremely portable, often fitting in the palm of your hand or in your pocket.
Some mobile devices are more powerful, and they allow you to do many of the same things you can do with a desktop or laptop computer. These include tablet computers, e-readers, and smartphones.
Tablet computers
Tablet computers are designed to be portable much like a laptop. They don't have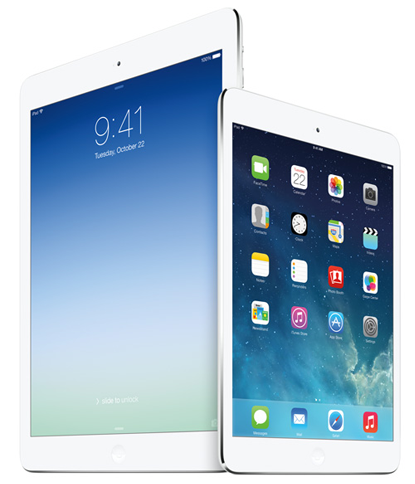 keyboards or touchpads. Instead, the entire screen is touch-sensitive, allowing you to type on a virtual keyboard and use your finger as a mouse pointer.
Tablet computers can't necessarily do everything traditional computers can do. For many people, a traditional computer like a desktop or laptop is still needed in order to use some programs. However, the convenience of a tablet computer means it may be ideal as a second computer. Below are some of the main features you can expect with a tablet computer.
Wi-Fi and 3G/4G: Because they are optimized for Internet use, tablet computers have built-in Wi-Fi. For a monthly fee, you can also purchase a 3G or 4G data plan, allowing you to access the Internet from almost anywhere.
Bluetooth: In order to save space, tablet computers have very few ports. If you want to use an external keyboard or other peripherals, they will often use a wireless Bluetooth connection.
E-book readers 
These devices are also called e-readers and are similar to tablet computers, except they are mainly designed for reading e-books (digital, downloadable books). Examples include the Amazon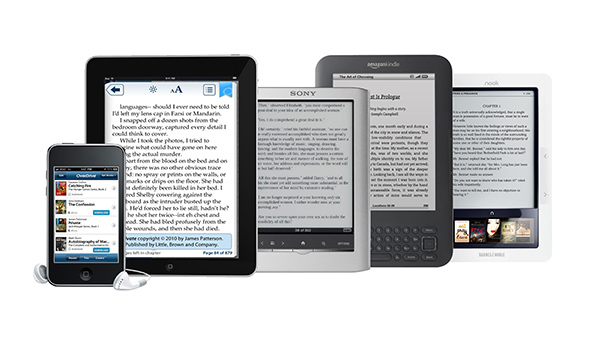 Kindle and the Barnes & Noble Nook.
E-book readers have either an e-paper display or an LCD display.
E-Paper: Short for electronic paper, this type of display can usually only display black and white. It is designed to look like a page in a book. Unlike an LCD display, it is not backlit, so the text stays readable even if you're outdoors in full sun. Many people consider e-paper to be more pleasant to read because it causes less eye strain. However, it generally can't be used for videos or other applications because the refresh rate is too low.
Smartphone
A smartphone is a powerful mobile phone that is designed to run a variety of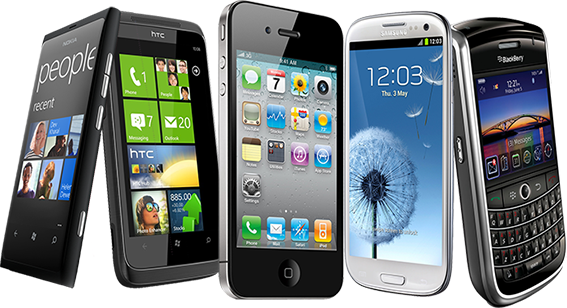 applications in addition to providing phone service.
Smartphones are basically small tablet computers, and they can be used for checking emails, web browsing, watching videos, reading e-books, and playing games.
Smartphones use touch screens and operating systems similar to those used by tablet computers. Many of them use a virtual keyboard, but others have a physical keyboard, which allows the entire screen to be used for display purposes.
Internet access is an important feature of smartphones. Generally, you will need to purchase a 3G, 4G, or LTE data plan in addition to normal cell service. Smartphones can also connect to Wi-Fi when it is available; this allows you to use the Internet without using up your monthly data allotment.