Updates on new infrastructure
Ultra-Fast Broadband fibre Rollout, Te Kuiti, Piopio and Benneydale
July 2020
Chorus' contractor Broadspectrum report "we are half way through the civil build portion of the project and are on schedule" for Piopio .
For Te Kuiti, they report "the physical installation of the Chorus UFB fibre rollout in Te Kuiti has now been completed. Over the next few months the system will be commissioned and connections will begin.
The rollout has gone extremely well and has been completed ahead of schedule.
Broadspectrum would like to thank the people of Te Kuiti for their patience during this process."

The physical installation of the Chorus UFB fibre rollout was also completed in Maniaiti/Benneydale earlier this year.
---
Ultra-fast broadband confirmed for Te Kuiti and Piopio
(updated February 2017)
Central Government has announced they are rolling out faster internet to more than 150 additional towns as part of the second phase of the Ultra-Fast Broadband (UFB) programme. Around 423,000 New Zealander's in both rural and urban areas, will benefit from improved connectivity.
Council had made an application on behalf of our towns for UFB to be brought here. Te Kuiti and Piopio are amongst the towns included in the Waikato region for the UFB installations (to be completed by 2024). Residents and businesses will have access to world-class broadband, adding to the value of our economy and ensuring the district is a vibrant place to live, work and visit.
Faster broadband speeds for Hangitiki 
(updated 4 October 2016)
Chorus has an upgrade scheduled for the broadband switch in the telecommunications cabinet located on the corner of Mangarino Road and State Highway 3. The upgrade is scheduled for the last week in November.
Broadband speed at your property is determined by the length of the copper line from your house to the cabinet.  The closer your property is located to the cabinet the faster your speed will be.  The high frequency signal from the broadband switch travels only so far down the line before it starts to deteriorate (a bit like an FM radio signal).  The further away you are, the less likely you are to get an ideal signal.
If you live along Mangarino Road and Waitomo Caves Road in vicinity to the junction and would like to find out more click here (PDF 1.07 MB).
Wireless broadband coverage
(updated 16 February 2016)
At the end of 2015 Vodafone switched on a newly built cell site in Aria, improving mobile coverage and high-speed rural wireless broadband in the area. Read Vodafones media release about the Aria tower here. (PDF 66 KB)
A new tower in Benneydale will be providing service by the end of February.
In addition to the new cell sites, the Waitomo area has received two Rural Broadband Internet (RBI) upgrades, providing high speed wireless broadband to over 650 addresses (approximately) in Te Kuiti and Piopio.
An upgrade to Kawhia's Vodafone tower has seen delivery of wireless broadband to parts of the Taharoa community. One of our residents Marguerite Groenwald tells of her story of better connectivity. Read Marguerite's story here. (PDF 115 KB)
Vodafone's address checker is a useful online tool to see what broadband services are available in your area.
Fibre to schools
Areas in our community to benefit from the original government funding include many local schools who are in the process of, or have already been connected to faster broadband giving improved access to students and teachers.
Fixed wire broadband
Chorus have provided information on where some rural residents should have or will be able to experience better quality broadband in the future, as a result of cabinet upgrades being undertaken.
What is a cabinet?
This is an outdoor access point that enables access to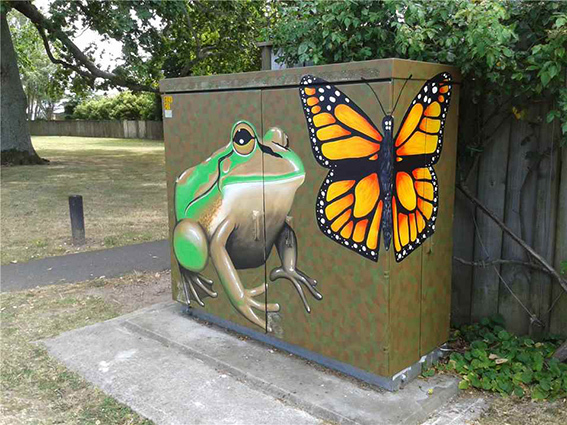 telecommunications wiring.
Residents who live within 1km of a cabinet should have access to a VDSL broadband service with speeds in excess of 20 Mbps. You may have to upgrade your service plan to enjoy the faster speeds, so make sure you call your internet service provider.
What is VDSL? 
VDSL delivered faster than standard broadband speeds. VDSL uses your copper phone line more efficiently so you get a faster connection than ADSL broadband.
Chorus cabinet upgrades
The following is a list of areas in the Waitomo district where cabinet upgrades (infrastructure) have been completed.
Mairoa Road - upgrades completed
Matiere Road - upgrades completed
Waitewhena Road and Kumara Road - upgrades completed
Kopaki Road - upgrades completed
Benneydale - upgrades completed
Mahoenui - upgrades completed
Aria - by end of March 2016.
Te Anga - by end of March 2016.
Te Waitere - by end of April 2016.
Taharoa - scheduled for early 2016. 
Check what broadband services are available at your address and any planned upgrades.
The best way for people to see if they can get VDSL is to go to the Chorus website and view maps https://www.chorus.co.nz/network-upgrade-map
Enter your address in the search function above the map.  
You should then select the 'Broadband" section under the left hand side headed 'SERVICES'.  The darker the colour, the faster the speed.  Dark brown indicates the VDSL coverage.