Resident satisfaction has increased for Council services, facilities and overall performance.
5 Sep 2016, 10:44 AM
Every year, Waitomo District Council carries out a Resident Satisfaction Survey (RSS) which seeks to gauge the opinion of residents on a wide range of services and activities delivered by Council. The survey helps us as a Local Government to understand people's views and opinions about our service delivery, and where there is room for improvement. It is also a means for measuring our activity performance against 14 targets; all of which were achieved this year - an excellent performance result for WDC.
The survey was open to the public for two weeks during May, and 329 Waitomo district residents took part, of which 83% were ratepayers. Similar to previous years, the largest portion of respondents were from Te Kuiti, in the 60 years plus age bracket.
The following graph shows resident's satisfaction with WDC services (JPG 429 KB), and compares this year's survey ratings with those obtained in the 2014 and 2015 surveys.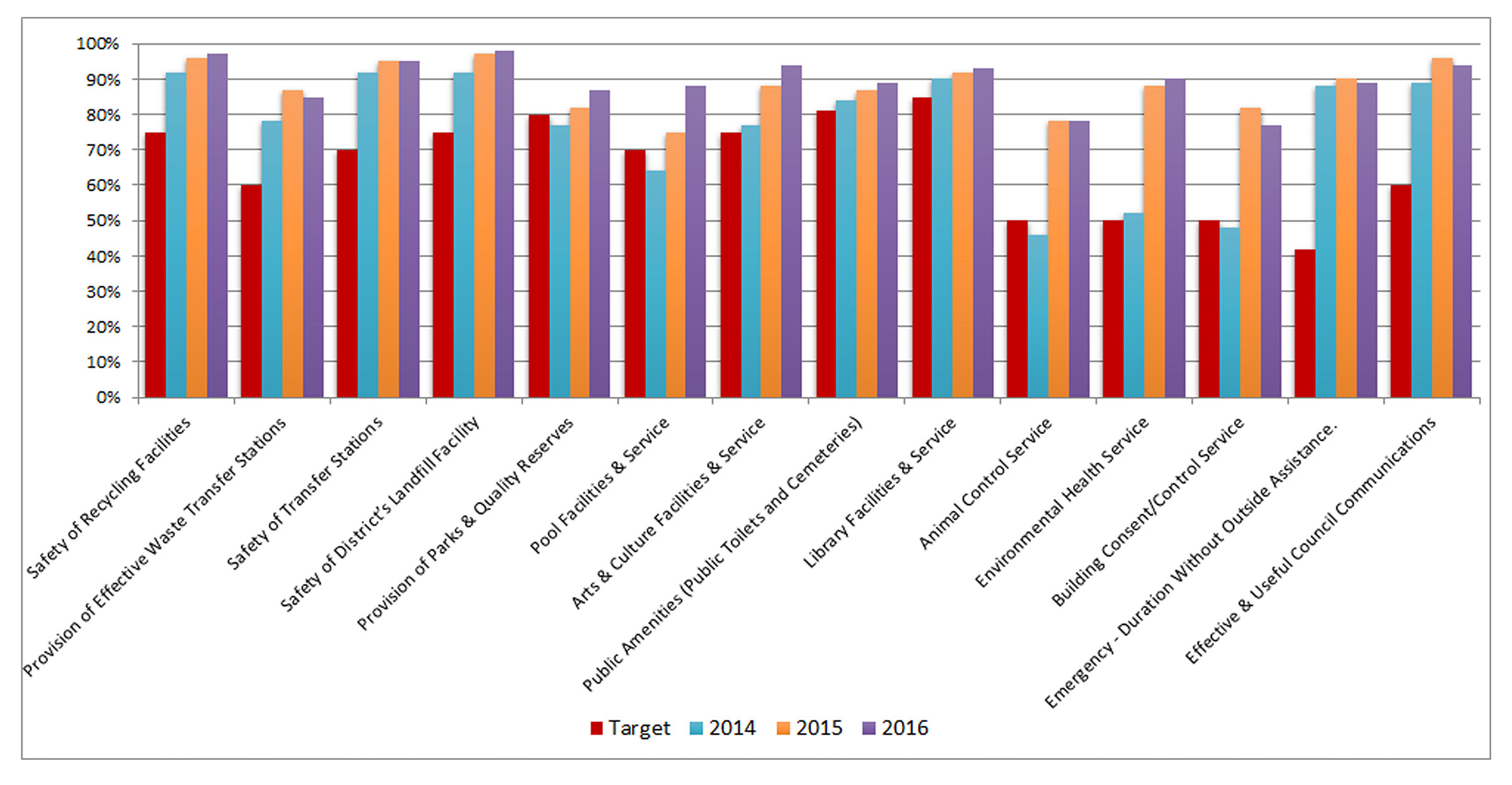 Council's Overall Performance
Residents are more satisfied with Council's financial management and that Council is capable, competent, and efficient and that the Councillors interact with the community. The following graph of Council's overall performance results (JPG 107 KB), shows that the positive trend in resident's satisfaction continues.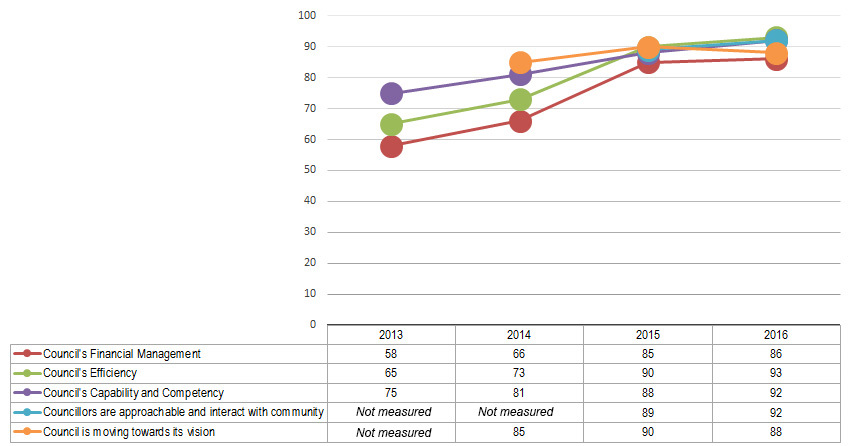 263 residents took the opportunity to let us know which service(s) are considered a priority to improve over the next 12 months. The top services mentioned were Roads and footpaths, District Promotion and Elderly Persons Housing.
Residents also commented on the following:
Better parking and rubbish disposal options for high tourist areas.
A need for more residential and tourism accommodation.
Improve local roads and footpaths.
Better promotion of the Aquatic Centre.
More public seating.
Promote the District and local businesses.
More options for waste collection and disposal.
WDC considers it important to understand how satisfied residents are with the services it provides to the communities in the District. Where there is scope for improvement in the eyes of the community this can be factored into WDC's planning for future service levels.
We continue to have a high and improving level of support for what we do. However, the results of the Survey highlights service strengths and opportunities for improvements in the areas of Solid Waste Management, Building Control, Emergency Preparedness, Communications, and assisting in the creation of vibrant communities and thriving business.
We would like to thank all the Waitomo district residents and ratepayers for having their say through the Resident Survey.
WDC's financial and non-financial (activity) performance will be reported on through the Annual Report for the financial year 2015/16. Council will receive the Annual Report at the October Council meeting. The full Annual Report and a Summary Report will be made available to the public.