WDC proud of 62 year history with Mangaokewa Reserve
17 Aug 2021, 3:42 PM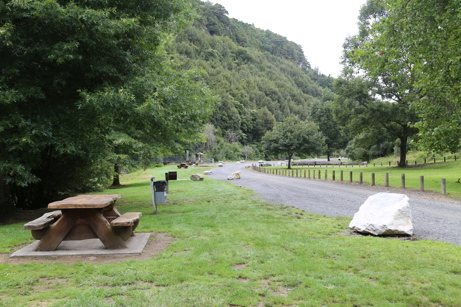 'Whakahī' (to be proud) and 'whakaute' (to care for) are the two words that come to mind for Waitomo District Council staff when describing their prior guardianship of Managokewa Reserve.
For more than 60 years, Waitomo District Council was the appointed caretakers of the reserve, a job they took great pride in and ensured it was maintained to a high standard.
Over the years, WDC developed the area to be more than just a scenic reserve. From landscaping projects and safety improvements, to track maintenance and vegetation control  – WDC invested hundreds of hours into the care and management of the reserve.
It became a pleasant place for picnics, overnight camping, bush walks, swimming and other passive recreational activities. Public toilets were available within the picnic area and swings were also installed.
Monthly inspections were completed, and the toilets were regularly maintained and fixed when needed. Weekly checks of the reserve were also undertaken as well as nightly security checks.
Not without it challenges, the reserve was at times vandalised and used as a dumping ground, but staff had a regular maintenance schedule and fixed things when needed. They also diligently tended to the reserve, with the help of local volunteer group Project Manu.
Project Manu has been working since 1995 to protect and improve the biodiversity of the reserve. They were inspired by the diversity and numbers of birds and flora at the Mapara Kokako reserve and hoped to emulate this effect on the local flora and fauna.
The reserve is a lowland podocarp/tawa forest with nikau groves lower down the hill slopes beside the Mangaokewa river. The reserve is home to tui, bellbird, kererū, tomtits, robin, fantails and the occasional kaka.
Mangaokewa Reserve is owned by the Crown (Department of Conservation) and on 3 February 1956, Te Kuiti Borough Council (now WDC) was appointed by the Government to manage the reserve.
WDC ratepayers paid for the cost of developing and operating the Reserve for the next 62 years until 2018.
In late November 2018, WDC proposed to DOC that it revoke the historical arrangement where the ratepayer funded the day-to-day operation of the Mangaokewa Reserve.
That would allow DOC to align the management of Mangaokewa Reserve with other DOC owned and managed reserves sites across the Waitomo District.
Council wished to focus its ratepayer funded investment on 'Council-owned' reserves within the District.
DOC took immediate steps to revoke the historical management arrangement in late December 2018. That meant that DOC took back full legal responsibility for the day-to-day management and control of the Reserve.
The Reserve was in great condition and the toilet was in excellent working order when Waitomo District Council transferred management of the reserve to DOC, which was also at no extra cost.
Waitomo District Council is proud of its 62-year history and guardianship of Mangaokewa Reserve.