Taumata Arowai learns about Council's water treatment processes
26 Aug 2022, 4:14 PM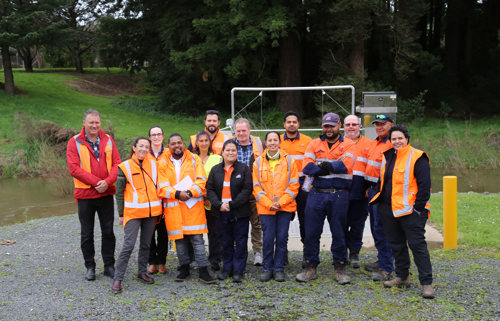 The amazing work of our dedicated and hardworking water treatment technicians was highlighted when representatives from the new water services regulator, Taumata Arowai visited our Water Treatment Plant (WTP) in Te Kūiti earlier this week.
The purpose of the visit was to become familiar with our district's water supplies and to connect with WDC staff.
The visiting group was given an insight into the processes involved in how our water is treated and the journey it takes from the water catchment intake, to a tap.
Water is a precious resource that is quite often taken for granted when people turn on their taps.
There are many processes, and compliance checks that are undertaken by our water teams every minute of every day to ensure our drinking water is drinkable. It's a skilled profession and Waitomo District Council is lucky to have a great team of dedicated staff in our Water Services Department.
WDC is in a fortunate position that significant investment in water infrastructure has already taken place previously, including an upgrade of the Te Kūiti WTP a few years ago.