Water education given a fresh perspective with Smart Water
28 Jun 2023, 12:30 PM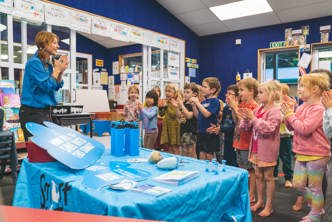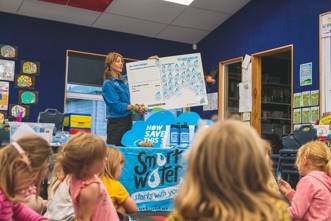 Tamariki in Waikato can learn the importance of valuing water, thanks to a flood of new educational resources.
Jointly developed by Smart Water and University of Waikato's Science Learning Hub, the resources make it easier for students to learn about the journey of water from source to tap.
Pirongia Primary School was the first to test the waters.
Year 0-1 teacher Dee Wilson praised Smart Water and said the children loved it.
"The children were engaged in the lesson the whole time. The lesson was presented in a way that they could understand it, and I like how this can be designed and pitched at a higher level for different age groups," she said.
"The children enjoyed learning about the importance of water, and they all came away with a greater understanding about how we can all use water more sustainably."
Since engaging with Smart Water last year, Pirongia School have implemented changes to how they use water. They recently installed a rain harvesting system, after winning the Smart Water prize as part of a United Nations World Water Day activity.
Smart Water coordinator, Sirri Smith said engaging children about the importance of water and why it is precious is vital in ensuring they look after and appreciate water now and in the future.
"We want to support teachers and help school children to appreciate how lucky we are to have clean fresh water on tap and be mindful of how we use it."
The fresh new resources cover various curriculum subjects such as science, technology, English, social sciences, health and maths. While they are aimed at Years 5-8, the lessons can be easily adapted to any age group.
About Smart Water and Smart Water Schools
Smart Water is a partnership between Waitomo District Council, Hamilton City Council and Waipā District Council. It aims to foster a greater understanding and appreciation of water from source to tap and support schools, organisations and the community to value water and use it in an efficient way.
Smart Water Schools resources include nine teaching topics around water with links to unlimited resources. Topics include:
- getting to know water
- water in nature
- Te Mana o te Wai
- water in the Waikato
- global water perspectives
- getting water ready to drink
- water use challenge
- water issues and effects
- being smart with water.
The Smart Water Schools online learning resources are available at smartwater.org.nz/schools
To book a Smart Water Schools visit
To find out more about next year's UN World Water Day activity go to smartwater.org.nz/UNWWD