Local Elections 2022
Our next local election is on Saturday 8 October 2022.
The elections are held every three years by postal vote.
If you are an enrolled voter, you'll get a voting information pack in the mail. Check or update your postal address to make sure you receive your voting papers.
If you own property in the Waitomo District, but are not a resident, you are still eligible to vote as a ratepayer elector.
Download the Ratepayer Elector application form here (PDF 177 KB)
Click here for the Ratepayer Elector Enrolment Portal
Click here (PDF 73 KB) to view the 2022 Local Authority Elections Public Notice 
List of Candidates (in alphabetical order):
Mayor: Andy Connors, John Robertson
Waitomo Rural Ward: Phil Brodie, Allan Goddard, Ross Herewini, Janette Osborne, Marilyn Park, Ronald Takerei, Gavin Todd
Te Kūiti Urban Ward: Eady Manawaiti, Luke Moss, Janene New, Dan Tasker
Click here to view the contact details of our candidates
Read our latest media release here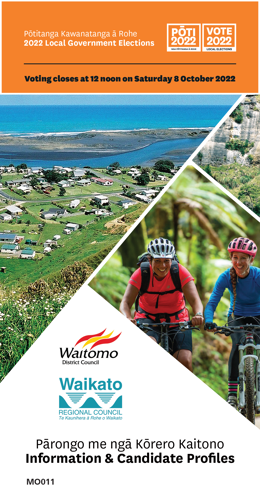 Download the Candidate Profile book here (PDF 8.88 MB)
Visit the VOTE 22 website to read all about local elections. It includes information for voters, candidates, council staff, teachers and the media.
DISCLAIMER:
Council resources must not be used for candidate electioneering/campaigning purposes, Council's social media pages must remain non-political. Council will use social media to promote and encourage people to STAND for election, and to promote and encourage people to VOTE.
Any obvious electioneering/campaigning OR comments that can be taken as electioneering/campaigning will be removed and the writer blocked for the duration of the election period. All political comments OR comments that can be perceived as political either for or against any candidate and/or potential candidate will be deleted, and the writer blocked for the duration of the elections period if commenting continues.
Please do not also "tag" any of Council's social media pages into any posts that relate to a campaign or support of a preferred candidate.
Sharing our Election STAND and VOTE promotional posts to your networks and community pages is welcomed.
The following list of social media pages are either maintained and monitored by Waitomo District Council, or linked to Council by association.
https://www.facebook.com/waitomodistrict/
https://www.facebook.com/WaitomoDistrict.animalcontrol
https://www.facebook.com/WaitomoDistrictLibrary
https://www.facebook.com/TeKuitiNZ
https://www.facebook.com/WaitomoDistrictPlanReview
https://www.facebook.com/tekuitipool
https://www.facebook.com/inframaxconstructionltd
https://www.facebook.com/profile.php?id=100064267683555 (John Robertson – Mayor of Waitomo)
Instagram.com/waitomo_nz
neighbourly.co.nz/organisation/waitomo-district-council
https://www.youtube.com/channel/UCjHT5TzwYI1YbYGQEReorrA/videos?view_as=subscriber