Dog Exercise and Restricted Areas
Our aim is to provide suitable exercise areas for dogs. The owner must have continuous control of the dog while it is free of restraint and must remain within the dog exercise area while the dog is off its lead.
The following areas have been designated by Waitomo District Council as Dog Exercise Areas. Please respect these areas so they can be enjoyed by everyone.
 

Reserve land adjacent to Redwood Forest - located on the Esplanade Te Kuiti

 

Ward Street Reserve in Te Kuiti

 

 

All beaches in the district with the exception of the Mokau beach between 1 December each year and 31 March the following year.

 
Maps identifying the boundaries of the Dog Exercise Areas are included in the Dog Control Bylaw 2015 (PDF 1.26 MB).
If your dog is causing or is likely to cause danger, distress or nuisance, it must be kept on a leash.  
You should also carry a leash with you at all times when out with your dog in public just in case you need to secure your dog.
Do not allow your dog to attack or annoy other dogs and people. 
Remember to remove your dog's droppings.
Bitches that are in season are not allowed in public places.
Areas where dogs are not permitted
Dogs are not permitted in these areas at all times:
Dog on Leash Areas
On all Council land that is not either a dog exercise area or a prohibited area, you must keep your dog on a lead at all times.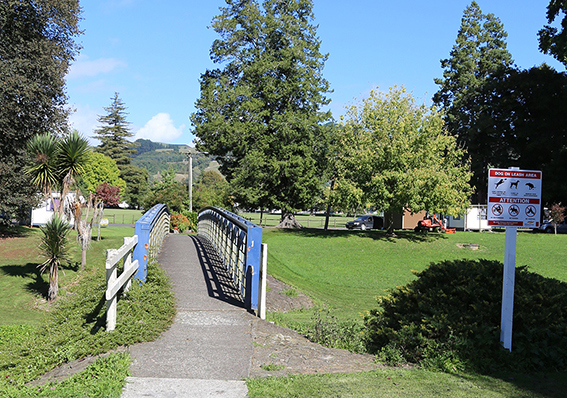 Dogs on Conservation Land
Any person wishing to take a dog into a Conservation Area within the District must first obtain a permit to do so from the Department of Conservation. Part 5C of the Conservation Act 1987 and Part 5A of the National Parks Act 1980 prescribe rules for control of dogs in Conservation Areas.
The Minister of Conservation may declare areas managed by the Department of Conservation as open dog areas where owners may take their dogs without first obtaining a permit. The only exceptions to this rule are police and conservation dogs engaged in official duties and disability assistance dogs accompanying people with disabilities. No open dog areas have been declared in any of the areas in the Waitomo District managed by the Department of Conservation.
More information on dogs in conservation areas can be found on the website of the Department of Conservation www.doc.govt.nz
View a map of the District showing all the Department of Conservation areas in the Waitomo District. (PDF 530 KB)