August 2014
7 Aug 2014, 8:00 AM
Waitomo District Christmas Parade
It's Christmas'... is the theme for this year's Christmas Parade. Get your creative hats on, organise a float team and start gathering all those things that remind you of Christmas. Your float could win the ultimate shield!
---
Restoration Work - Te Kuiti Railway Buildings
Work commenced in early July, on restoring the railway buildings on Rora Street. This work forms part of an overall project that is focussed on creating a vibrant central hub for the community.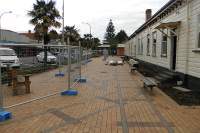 Key features of the restoration work includes strengthening of the brick chimneys, canopy and brick walls, foundation work, reproofing, repairs to the external cladding to the buildings / windows and painting of the complex.
WDC received a Lotteries grant of over $500,000 to go towards the project.
---
FREE mobile app for Library members
Waitomo District Library has access to a convenient mobile application that connects our Library catalogue with your library card.
Bookmyne can be downloaded for free from the iTunes App Store or Google Play (for Android devices). The app allows you to access your Waitomo District Library account, so you can renew books, place items on hold, view a list of your loans and overdue books and the balance of your library account. Once you have downloaded the app to your device, use the Search by Library Name facility to select Waitomo District Library. Enter your library card number, your PIN and away you go!
Need assistance? Give us a call...our library staff can step you through the process whether over the phone or in person. Phone (07) 878 1028
---
Discretionary Grant Fund - September Funding Round
The focus of the Discretionary Grant Fund is to provide community assistance for the 'not for profit' sector in order to create a strong social base and meet local needs. Grants are 'one-off' in nature and organisations can only apply for funding once in any given financial year.
If you are a community club, group or organisation operating within the Waitomo District you may be eligible to apply. The grant may be used for minor administration and operational expenses, training, public education,hall and equipment hire and other non capital items.
Organisations considering applying for funding should read the Community Development Fund Policy (available on our website) to ensure that they understand and meet the eligibility criteria prior to lodging an application.
Applications for the September Discretionary Grants funding round are now open. Applications must be received by 5pm, Monday 1 September 2014.