No dogs & no excuses
14 Jul 2015, 2:39 PM
STORY / ARTICLE WAITOMO NEWS – www.waitomonews.co.nz
WAITOMO residents now have no excuse when it comes to knowing where to walk their dogs.
Earlier this month, the Waitomo District Council (WDC) erected a number of highly visible signs throughout the district outlining the specified 'no dogs allowed' and 'dog exercise' areas.
Other signs detail where local residents are prohibited from riding motorbikes, horses and/or camping.
Although the bans have been in place for some time, customer services group manager Helen Beever says the signs have been installed in an effort to raise awareness of the regulations set out under the Dog Control and Public Places Bylaws.
"The aim of council bylaws are to protect the public from nuisance, promote and maintain public health and safety and minimise the potential for anti-social behaviour in public places," she says.
"The signs are about raising public awareness and reinforcing a message that these areas are not suitable for the outlined purpose or activity because it is dangerous or puts other people or their property at risk."
CBD BAN
Mrs Beever says dogs are prohibited in Te Kuiti's Central Business District (CBD) for several reasons including the number of people and traffic in the town environment.
Areas where dogs are not allowed include Rora St (between Alexandra St and the South End Loop Rd) and King St East and Sheridan St (between Rora St and Taupiri St).
There are exceptions for disability assist and police dogs, dogs attending a vet clinic, or any dog contained securely within/or on a vehicle.
"The Esplanade (a WDC designated dog
exercise area) is located within
walking
distance of Rora and Taupiri Streets and
we
are encouraging people to walk their
dogs
in this area, where there is plenty of
room
and
they can let their dog off the leash for
a good exercise," says Mrs Beever.
Under the council's Dog Control Bylaw
areas where dogs are allowed to be
exercised
without being kept on a leash are
the
eastern bank of the Mangaokewa Stream
between Lawrence St and the Te Kuiti
Bowling Club, the Ward St Reserve and the
Mangaokewa Scenic Reserve.
Mrs Beever says the Dog Control Bylaw is aimed at protecting the public and any person who disregards the rules could be fined up to $300.
Continuing the awareness project, WDC has placed signs along the eastern bank of the Mangaokewa Stream to reinforce the fact that riding motorbikes and horses on council-roads, public places and/or reserves, is prohibited under the Public Places Bylaw.
Mrs Beever says: "Our aim is to ensure that an acceptable standard of convenience, safety, visual amenity and civic values are maintained for the wellbeing and enjoyment of residents, visitors and businesses within the district."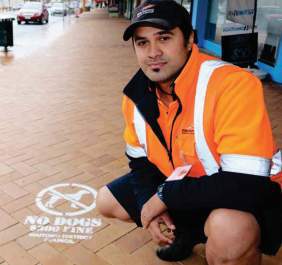 SET IN STONE: Waitomo District Council's animal control officer Lucas Koroheke with a 'no dogs allowed' sign on Rora St in Te Kuiti.