Waitomo District citizens honoured for their community contribution
4 Jul 2021, 4:10 PM
Six Waitomo District residents have been honoured for their contribution and dedication to the community.
Fay Pascoe received the Citizens Award for her voluntary work spanning more than 50 years and always helping those in need.
Reverend Barney Winikerei, Brian Hanna, Kevin Forgeson, Shirley Pierce and Val Brett all received a Lifetime Achievement Award.
The Citizens Award acknowledges a resident who has demonstrated an outstanding community focus, and been involved in community projects or initiatives that have resulted in positive outcomes for the Waitomo District.
Recipients of the Lifetime Achievement Award will have, over several years, demonstrated an outstanding community focus through their involvement in community projects and initiatives, and by doing so making a significant difference within the Waitomo District.
Waitomo District Council Manager Community Development Clowdy Ngatai says it has been a privilege to organise an event to celebrate the incredible achievements of our local heroes.
"They are the fabric of our community, and our district is a better place because of their contributions. And standing along beside them is their whanau and friends, who also play an important part in supporting our community stalwarts.
"I mihi all of them, and also to those in our community who may not have yet been recognised for the amazing work they do.
"We are very fortunate to live in such a giving community."

The Awards take place on a biennial basis with recipients being selected by Waitomo residents via a formal nomination process. The working party, which chooses the award recipients, comprises an elected member and three community members.
FAY PASCOE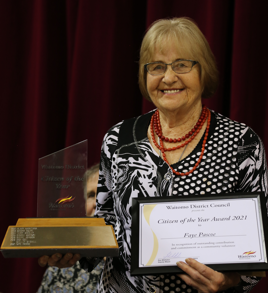 Fay Pascoe (nee Baker) has been serving the community for more than 50 years in various voluntary roles.
She moved with her family to Te Kuiti in 1942.
She worked at Peter Pan Bakery and then the Midland Hotel as a waitress, where she met Joe Pascoe who came to Te Kuiti as a builder.
They built their own home, and raised two children, and Fay was often seen lugging bricks and material to help Joe on many builds around the district, including the block of shops on King Street.
In 1963, Fay and Joe opened Joe's Delicatessen (which now houses King Street Kitchen), offering interesting delicacies including tins of tongue, snails and other meats and salamis. Cheese, coffee, ice cream, sweets, cakes, scones and bread rolls were also favourites.
After 10 years, Joe's Delicatessen was sold and the couple purchased Pascoe's Drapery to help families with their clothing needs.
When Joe suffered a stroke in 1983, Fay spent many years caring for him, and when he was moved to Hillview Resthome, Fay would visit each day and help other residents.
Fay has dedicated many hours over the years volunteering at Hillview, as well as Grey Power.
Over the years Fay also volunteered for Plunket, St John Ambulance, Christmas parades, Motocross committee, and RSA.
Fay loves her community and the people, and is always willing to give a helping hand.
REVEREND BARNEY WINIKEREI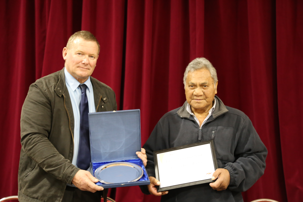 Reverend Barney Winikerei has dedicated more than 40 years of his life to the service of others, providing spiritual guidance, comfort and support to families in times of need.
Barney is an ordained and registered Minister of the Methodist Church of NZ, and is also a third generational member of this whanau to become a religious minister.
Hailing from the West Cost of Kiritehere and Marokopa, Barney has held several roles and positions within the community as Kaumatua and cultural advisor for many local schools, organisations and civic events.
He is also a chaplain of Te Kuiti Hospital and other local establishments and is regularly called upon to provide chaplaincy to those who are sick, bereaved or seeking spiritual guidance and support.
All of this happens away from the public spotlight and often in the early hours of the morning.
He assists the New Zealand Police of the Waikato West area and provides blessing and prayers for people, and also on sites where significant trauma or adverse events have occurred.
Barney is a strong supporter of Ngati Maniapoto Marae Pact Trust and its various programmes, MFM Te Reo Irirangi o Maniapoto and was instrumental in the grand opening of the Waitomo Cultural Centre at Piripiri.
Barney remains active in the community and is a highly respected Kaumatua and tribal leader throughout the Rereahu-Maniapoto district. He is still regularly called upon to officiate over important occasions and significant events – a duty he responds to with unwavering dignity and humility.
BRIAN HANNA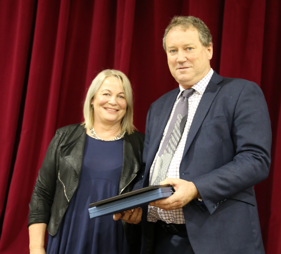 Brian Hanna has been a major volunteer, advocate and supporter of the Waitomo District for many years.
The majority of his contribution to the community goes unrecognised, but his service spans more than 30 years across more than a dozen different organisations and clubs, not including his involvement in community projects while serving as a Councillor and Mayor of the district.
Brian served as a Waitomo District Councillor from 2004-2010 and was Mayor from 2010-2019.
Brian is a member of many trusts throughout the region including the North King Country Development Trust, #5 Trust and Maru Energy Trust. He was also a member of the Waitomo District Champions project for Violence Free Maniapoto, is a current member of Legendary Te Kuiti and an advocate for Number Twelve Youth Hub.
In 1999 he was the supreme winner of the Waikato Farm Environment Awards, and he is currently the chair of the Three Waters Steering Committee.
Brian and his wife Andrea are actively involved in the community and dedicate many hours volunteering for community organisations and events.
KEVIN FORGESON
Kevin Forgeson was instrumental in the establishment of the Te Kuiti Community House Trust and has served as a trustee for 28 years. He is a well-respected trustee and his voluntary contribution to the trust has been invaluable.
From 2013 up until the present, Kevin has been one of the trustees involved in supporting and overseeing the provision of the successful novice driver training programme, on behalf of Waitomo District Council, Waka Kotahi – NZTA and Number Twelve Youth Hub.
During the COVID-19 lockdown last year, the community house trustees, along with co-ordinator Desiree Brown were successful in obtaining much needed funding of $77,000 from funders outside the district to distribute among the district.
Kevin also puts additional time into mentoring, and works tirelessly in the background volunteering for other groups and organisations including Citizens Advice Bureau, Te Kuiti High School Board of Trustees, NZ Rugby League Board, and Game on Charitable Trust. He will also become the District Governor for The Rotary Club in 2022.
SHIRLEY PIERCE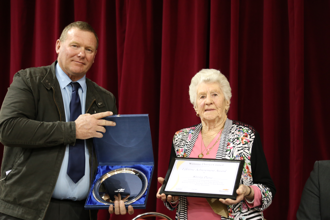 Shirley Pierce has spent more than 30 years involved with the ladies section of the Returned Services Association as well as Te Kuiti RSA. In that time she has been president and was awarded a life membership.
Shirley has been proactive in organising Poppy Day every year to raise funds to help both local service personnel and also their families, and works tirelessly to maintain and clean the resting place of service personnel.
She also dedicates a lot of her time to visiting Hillview, Te Kuiti Hospital and the homes of former servicemen and women to help with any needs they may have. All of this is done without looking for kudos or compensation.
VAL BRETT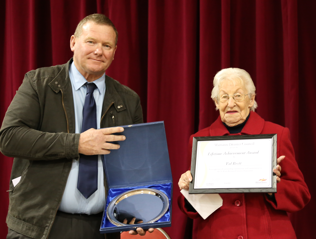 Val Brett has spent more than 30 years involved with Te Kuiti Returned Services Association. She has been president for many years and is proactive in organising ANZAC days, and helping with Poppy Day.
Attention to detail and making sure things were done the right way is Val's speciality and over her years of service Val has been an important mentor and support person for many members of Te Kuiti RSA, particularly the younger generation.
Even when suffering from illness, Val has gone out of her way to ensure RSA members are well looked after and their needs are being met.