Mayors Taskforce For Jobs work programme making strides in Waitomo District
21 Jun 2021, 4:27 PM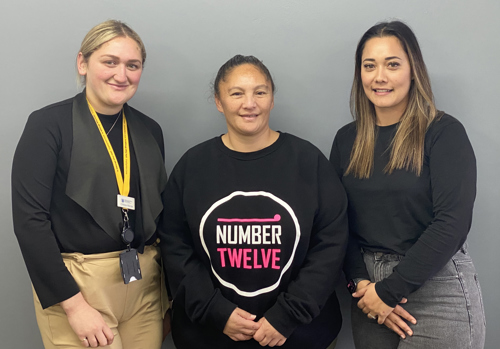 From Left: MSD Work Broker Chelsea Macrae,
Liz Barrett of Number Twelve and Abbe Putaura of Aotahi Ltd
What started as a small initiative to help young people and COVID-displaced workers into local employment has grown into an important and necessary programme in the Waitomo District.
To date almost 90 young people have found employment thanks to a Community Recovery Programme developed by Mayors Taskforce for Jobs (MTFJ) and the Ministry of Social Development.
The programme is a partnership between MTFJ, MSD and rural councils throughout New Zealand, with Waitomo District Council working closely with Number Twelve Youth Hub and Aotahi Ltd to deliver the programme locally.
The programme primarily supports young people who are not in education, employment or training, particularly youth disproportionately impacted by the economic impacts of COVID-19.
For co-ordinators Liz Barrett of Number Twelve and Abbe Putaura of Aotahi Ltd, the programme is about more than just job placement. They take a holistic approach to their roles as they both believe having a strong foundation goes a long way in obtaining and keeping a job.
While Liz takes care of the pre-preparation and onboarding, Abbe provides pastoral care and support once a job placement in achieved.
"The programme started in December 2020 with a target of 50 work placements by the end of June this year. But thanks to an MSD employment expo held in Te Kuiti in November, we had 45 young people sign up in December," says Liz.
To date, 127 young people have registered with the programme, 89 have been placed in work, with 66 employed fulltime and 23 employed on a casual basis.
"The help we provide varies with each person. Some young people don't need much help, they just need a connector or support until they are established, while some need help to develop skills to be work ready," says Liz.
"How we support them is an important part of our mahi. It includes setting that foundation and working on what is missing in terms of skills, values, and even necessities.
"There are lots of barriers out there that can prevent young people in particular from securing a job. That could range from needing a legal form of identity or a CV to other barriers such as lack of transport, adequate clothing, or even lack of communication skills and hygiene.
"All of these factors need to be taken into consideration and addressed so that the ultimate outcome of a job placement is successful, and it works for both the employee and employer."
Abbe says pastoral care is an important next step.
"Intense support is provided in the first three to four weeks and this could include help with understanding employment agreements and health and safety," she says.
"We also hold workshops on employment and helping to build resilience.
"It's also about ensuring they have transport to and from work, and an adequate lunch, so we provide incentives such as petrol vouchers or grocery vouchers at four weeks, three months and six months."
Abbe says the programme is very robust, but also complex as each person has different needs.
"We are constantly checking in to see how everyone is going and we also support the employers. It has become an important programme in our community."
Liz says delivering the programme is very rewarding for both Abbe and herself.
"They appreciate the time and effort you put into them, and it's the little things that make the difference, particularly when you see where some of our young people started, and how far they have come."
Both Liz and Abbe are supported by Aotahi's Managing Director Naomi Hughes, Number Twelve Manager Hilary Karaitiana, MSD Work Broker Chelsea Macrae and Waitomo District Council Manager Community Development, Clowdy Ngatai.
The pilot programme started in mid-2020 with four small rural councils, and has now grown to include 23 rural councils.
MTFJ Chair Max Baxter is proud of the achievements the programme has accomplished in a short space of time.
"Mayors and councils know their rangatahi, their local businesses, their industries, and where the gaps are, and with the support and resources of the Ministry of Social Development, have risen to meet the Covid employment crisis," says Max.
"MTFJ has been advocating for this level of support for many years, and the Community Recovery Programme shows that when you empower and enhance the capacity of councils, amazing things can happen. The programme is changing lives for those young people who are living in the regions."
Waitomo District Council Manager Community Development, Clowdy Ngatai says thanks to the hard mahi from Aotahi Ltd and Number Twelve, the programme has produced excellent results locally.
"The Community Recovery Programme has gone from strength to strength, there has been lots to learn along the way but it is very early days and we certainly congratulate all those who put a lot of passion and energy into working with our youth every day. It's a fantastic example of a locally led solution delivering for young people in the community."