Council adopts The Waitomo District Play, Active Recreation and Sport Plan
31 May 2021, 9:41 AM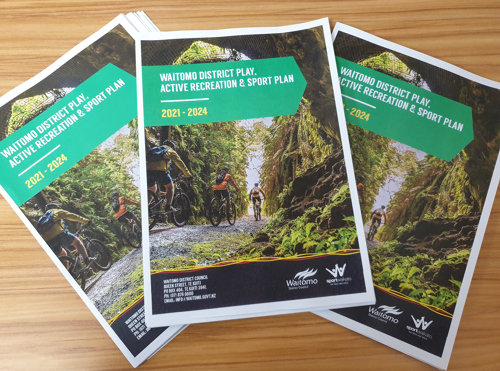 Ensuring Waitomo District residents are well supported when it comes to sport, active recreation, and physical activity is a key focus of a plan recently adopted by Waitomo District Council.
The Waitomo District Play, Active Recreation and Sport Plan was developed in partnership with Council and Sport Waikato, and recommendations in the plan are based on feedback from sport and recreation providers, secondary schools, and community members, as well as information from Sport New Zealand, sector data and Statistics New Zealand.
Development of the plan began in 2019 and was adopted by Waitomo District Council on 27 April this year, with the intention to help guide decision making and investment in play, active recreation and sport for Council, Sport Waikato and sport providers in the Waitomo District.
There are three focus areas – Our People, Building Communities, and Regional Leadership, with a set of recommendations for each category, including club development and capability support.
Sport Waikato Regional Connectivity Co-ordinator Cait Cresswell says having a plan is important as national and international trends show that physical activity levels have been in decline.
"In the 2017 Active New Zealand survey only 46% of Waitomo adults and 61% of Waitomo young people did enough physical activity each week to positively impact on their health,"[1] she says.
"The decline in participation reflects rapid changes within our societies, people are increasingly time-poor and cash-poor and the way that they want to participate is changing because of this.
"Our approach to play, active recreation and sport planning needs to recognise these changing needs and wants, and help community providers adjust to engage with their communities in a way that promotes play, physical activity and sport for life."
Throughout the development of the plan, Waitomo District Council and Sport Waikato were able to identify community providers such as Kotahi Aroha, which supports wahine in the community to be active, and provide some extra support so they can continue to do their amazing work.
Through the formation of Vibrant Safe Waitomo in 2019, Council also noted the need to increase the number of safe recreational (hakinakina) opportunities available to the community to enhance wellbeing outcomes and foster community connection.
"Sport, active recreation, physical activity, and play have a crucial role in building communities that are healthy, connected, and vibrant," says Manager Community Development, Clowdy Ngatai.
"It provides people with opportunities to improve their physical health while also creating a sense of community and connection that helps to improve mental, social, and emotional health.
"Through Vibrant Safe Waitomo, WDC has outlined their commitment to making the Waitomo community a safer place to live and opportunities exist for WDC to connect to and leverage from regional safety strategies such as The Waikato Regional Cycle Education Plan and The Waikato Regional Water Safety Strategy."
Another recommendation within the plan is to establish a regular forum with key sport and recreation club committee members, community members and other interested parties to help shape play, active recreation and sport opportunities in the Waitomo District.
To get an understanding of interest in this forum an initial meeting will be held to allow those interested an opportunity to discuss the plan in more detail and how it connects to other Council plans.
There will also be an opportunity for people to express interest in being a part of the regular forum going forward.
Please register your interest by email to [email protected]
[1] Adults (18 years and older) need to do greater than 150 minutes of physical activity a week to positively impact their health. Young people (5-17 years of age) need to do greater than 420 minutes of exercise per week to positively impact their health.
View the plan here (PDF 2.06 MB)