Turning of the sod marks milestone in stadium build
9 Feb 2022, 11:43 AM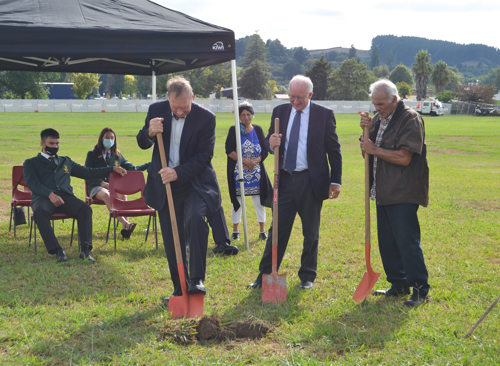 A site blessing and turning of the sod ceremony at Te Kuiti High School this morning has marked a significant milestone for the community.
Under COVID-19 restrictions, kaumatua, Te Kuiti High School staff, Waitomo District Council staff and contractors met to officially commence the construction phase of the King Country Indoor Sports and Recreation Centre.
The blessing and ceremony cleared the way for onsite work to begin at the school.
The new indoor sports centre will be jointly owned by Ministry of Education, TKHS and WDC, however Council is responsible for building the facility and managing ongoing operations.
Hamilton company Apollo Projects Ltd will construct the stadium, which is scheduled to be completed by the end of the year.
Waitomo Mayor John Robertson says the turning of the sod ceremony has been a long time coming, since the concept of an Indoor sports facility was first floated in 2014. 
"This is a unique partnership between a council, the Ministry of Education and a school - a test case to build and operate a major facility to support the needs of the school, the local community, and the wider region.
"We will all learn from this. There will be stresses and strains but if we can work in the spirit of partnership to deliver a fantastic project, it will come together in the end."
Mr Robertson says the construction of the stadium will not be risk free, particularly in the COVID-19 environment, but Council has done all it can to identify and mitigate to the extent possible all identified project risks. 
Just under $8.9 million has been raised for this project, including Council's contribution of $1.5 million.  This covers all known site development and construction costs and fit out.
TKHS Principal Gareth Williams acknowledged the hard work and dedication from all those who have played an important part in getting the project to the current stage.
"I am excited about what the stadium will mean for the community. This is an amazing opportunity for the students, the town and the King Country and I thank everyone who has helped get it to this point," he says.
The Indoor Sports Centre will consist of two full sized basketball courts, a fitness centre, a multipurpose room and changing rooms.  The fitness centre will be open to the public, and the courts will be available outside of school hours, or at other times agreed with the school.