Is your dog missing?
15 Jul 2014, 8:00 AM
Call Waitomo District Council, it may be in the pound!
For many reasons including public safety, dogs must be confined to a property by fencing, running wire or a kennel. The fence must be tall enough to contain the dog and we recommend that you check your perimeter fence regularly for holes or obstacles like a compost bin that the dog can climb on to jump over the fence.
If your dog is picked up by Animal Control for the first time (first offence) and placed in the pound, it will cost you $50.00, plus $8.00 per day for food. These costs will need to be paid in full before your dog is released from the pound.
So be your dog's best friend and keep him or her secure on your property and avoid paying this fee.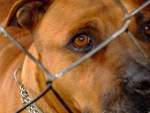 To check if your dog has been picked up by Waitomo District Animal Control, phone 07 878 0800 or free phone 0800 932 4357.