Works underway at Te Kuiti Water Treatment Plant
16 Jan 2015, 2:42 PM
Waitomo District Council has been working to improve the condition of its infrastructure assets to support public health outcomes and to meet its resource consent and legislative requirements.
The upgrade of the Te Kuiti Water Treatment Plant is essential if Council are to meet the Health (Drinking Water) Amendment Act 2005 (amended in 2008), which applies to the Te Kuiti water supply from 1 July 2014.
Council's contractor is now on-site commencing part one (of the first phase) of this major upgrade.
Water Services Manager Andreas Senger is over-seeing the project "Part one (of phase one) is the excavation work and the building slab, enviro-tank installation and pump chamber installation."
"Part two will commence from June/ July onwards and involves pipe work, high-lift pumps, electrical work, ultra violet light disinfection and SCADA equipment."
Additional equipment is being included as part of the upgrade.
"In the later stages (part three of Phase one) of the upgrade, an automated flow proportional carbon dosing unit will be installed to improve taste and odour of the treated water," says Mr Senger.
Council have been successful in obtaining a government subsidy of $780,850 for Phase one of the upgrade - which is estimated to cost $5.8 million.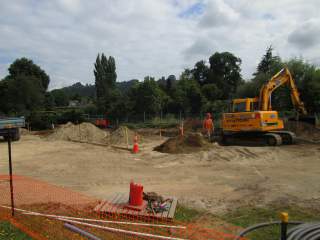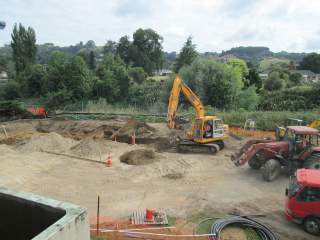 Photo: Excavation work is underway onsite at the Te Kuiti Water Treatment Plant.