General Property Revaluation for the Waitomo District
31 Oct 2018, 1:23 PM
The Rating Valuations Act 1998 requires that every property in New Zealand must be revalued for rating purposes at least once every three years.
The Waitomo District Council Property Revaluation for 2018 is now confirmed and property owners will soon receive a 2018 Notice of Rating Valuation with an updated value for their property.
The new valuations have been prepared by Quotable Value (QV) for around 5,900 properties on behalf of the Waitomo District Council. The updated rating valuations are independently audited by the Office of the Valuer General, and meet rigorous quality standards before the new rating valuations are certified.
The updated rating valuations should reflect the likely selling price of a property at the effective revaluation date, which was 1 September 2018, but do not include chattels.
The rating revaluation figures compiled by QV show the total ratable value of all properties within the Waitomo District to be worth over $3.6 billion with the land value of those properties now valued at over $2.27 billion.
QV General Manger, Richard Allen said, "There has been strong demand for residential property in the district, particularly in Te Kuiti and other townships such as Bennydale and Piopio where values have increased substantially. Overall, residential Capital Values have increased by 44.9% with Land Values increasing by 44.3%. The new average residential Capital Value in the district is now $191,166."
"Commercial and industrial properties have also seen value increases, with the average capital value for developed commercial property increasing by 19.2% since the last rating revaluation in 2015, and the average capital value for developed industrial property increasing by 16.0% over the past three years."
"There has been good demand for lifestyle properties in the district, particularly around Te Kuiti, which has resulted in steady value increases since 2015. The average Capital Value for lifestyle properties has increased 21.9% to $209,000 with the corresponding average land value increasing by 26.5% to $148, 000."
"The rural market has been a little more subdued with dairy properties in the district increasing on average by a 13% and pastoral properties increasing by 12.4%."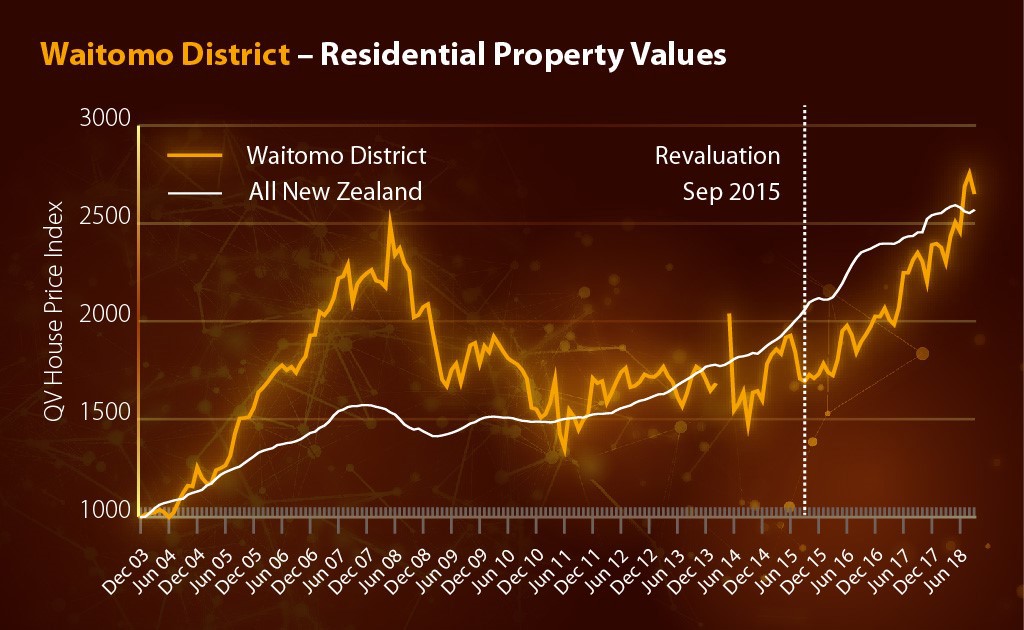 It is helpful to remember the effective rating revaluation date of 1 September 2018 has passed and any changes in the market since then won't be included in the new rating valuations.
This means in many cases a sale price achieved in the market today may be different to the new rating valuation set as at 1 September 2018 and that rating valuations are not designed to be used as market valuations for raising finance with banks or as insurance valuations.
New rating values will be posted to property owners after 31 October 2018. If owners do not agree with the rating value they have the right to object.
Property owners can download an objection form here or call the friendly Customer Services Team on (07) 878 0800 to request an objection form or for more information.
The objection close-off date is 7 December 2018.