WDC kickstarts major Three Waters projects
20 Jul 2021, 4:48 PM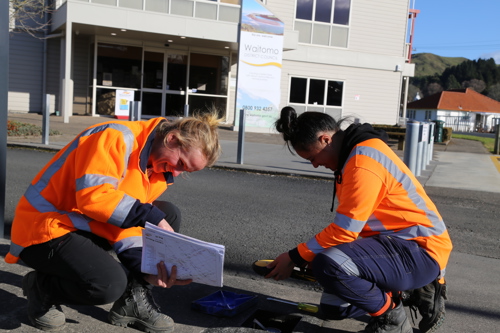 Inframax Contract Manager Sophie Juno (left) and Asset Information Collector Ashleigh Papaa gather data on a WDC water connection.
Waitomo District Council has kick started two major projects which will help improve the delivery and quality of drinking water for those connected to a town supply.
The projects will be financed from the $3.5 million in stimulus funding allocated to WDC last year by Central Government for participating in the initial phase of the Three Waters Reform Programme.
The first project involves the installation of backflow preventers district wide.
Backflow preventers protect the entire public water supply from chemical and bacterial contamination. Water within premises can become contaminated by greywater from washing machines and outdoor hoses for example.
Manifolds with backflow preventers can manually stop water flowing back into the main supply from your connection point.
General Manager Infrastructure Services, Tony Hale says Council has been installing backflow preventers as pipes have needed upgrading, but he is pleased to be able to fast track an important upgrade across the urban centres.
"The majority of leaks and subsequent call outs relate to the water connections from the main supply to a house. The new manifolds will reduce leaks and maintenance costs.
"These valves also prevent any possibility of greywater from washing machines and dishwashers for example flowing back into the mains water which has the potential to be a health risk."
Inframax Construction Ltd (ICL) will undertake the project which involves installing 1200 manifolds with backflow preventers across the district, predominately in Te Kuiti.
Tony says affected residents will be informed of any interruption to their water supply while the physical work is undertaken and there will be no effect on the water supply post installation.
"Subcontractors will need to go on site to locate the old tobies and a new manifold will be installed. If need be, the chamber box protecting the manifold will be replaced as this will increase the life of it and make maintenance access easier," says Tony.
Each connection will take about one to two hours to install.
Most connections will be along the property grass verge. However, some may be located inside the property boundary and permission to access the property will be requested.
Water meters are not being installed as part of this project.
ICL and MTFJ joins forces for second project
The second TWR funded project involves the collection of data on Council's water assets.
With help from the Mayors Taskforce for Jobs work programme, ICL has employed two young adults who will help with collecting asset information on behalf of WDC.
Ashleigh Papaa and Hapi Takerei will be trekking throughout the district gathering information and determining the condition of water connections, valves and fire hydrants in the urban areas of Te Kuiti, Piopio, Maniaiti/Benneydale and Mokau.
Using a device called a Trimble, the pair can accurately collect and record asset data using a real-time mapping system. Data obtained will include the GPS location of a water asset, the type, the depth, and its condition and age.
Tony says with the Three Waters Reform Programme well underway, it is important Council's three waters infrastructure data is as up to date and accurate as possible, particularly if the assets will be transferred to a new entity.
"With accurate data, we can plan better for maintenance upgrades and have a better understanding of what infrastructure may need replacing sooner based on the condition and age," he says.
"Ashleigh and Hapi are doing a great job for Council, and we're pleased with the progress made so far."
The project will take about six months to complete.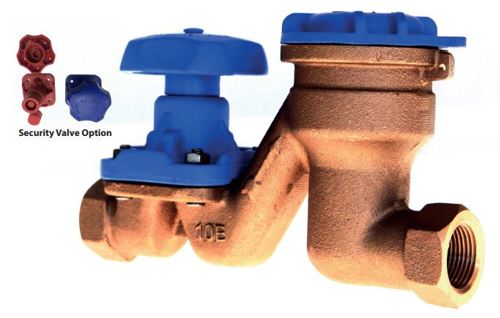 This manifold with an added backflow preventer will be installed on properties connected to the town water supply. They prevent any possibility of greywater from washing machines and dishwashers for example flowing back into the main water supply, which has the potential to be a health risk.