Road Safety focus for holiday season
9 Dec 2014, 10:05 AM
Media Release
Rachel Stubbs has a busy period ahead as Road Safety coordinator for Waitomo and Otorohanga District Council's.
"At present I am organising various types of road safety projects that are focussed on the holiday season."
"Plan B4 U party is all about thinking ahead and making sure you have made good plans to get home safe." "During this time of the year, people are out and about, celebrating and enjoying themselves" "The aim of this campaign is to get people thinking ahead and making plans like designating a sober driver or staying at a mates place".
"I am also involved in ClubCHAMPS a joint initiative with Population Health and the Police." "ClubCHAMPS is an initiative aimed at reducing alcohol related harm within the grass roots King Country sports clubs of Te Kuiti, Taumarunui and Otorohanga."
Another change I am raising awareness of is the lower drinking limit, which came into effect on 1 December. Our best advice is to not have anything to drink if you plan to drive home.
People should understand the blood alcohol concentration (or BAC) – this is the amount of alcohol present in 100 millilitres of blood.
The current legal limit for over 20 year's old motorists is 50mg of alcohol per 100 ml of blood (BAC 0.05). Drivers who test positive at the lower limit will receive a $200 fine and 50 demerit points and if a driver tests at 80mg and above, they will face criminal charges.
How your body processes alcohol can vary depending on your gender, body size, whether you have eaten recently, and the level of body fat.
The holiday period can be a hectic and crazy time when people are often tired and stressed. But getting to families and friends for Christmas and New Year's is very important. People depart on long roads trips when we're not quite at our best.
Remember to take regular breaks drink plenty of water, swap drivers, keep the kids entertained with plenty to do in the back seat so that the driver can concentrate.
Part of my role involves running fatigue stops to combat driver fatigue. My aim is to encourage drivers to pull over and take a break. This could be a cup of coffee and something to eat, or maybe a power nap for 10-20 minutes which can be all it takes to improve driver alertness.
Over the last five years driver fatigue has contributed to about 13% of fatal crashes in New Zealand.
"This is a serious issue because people's reaction time is slower and it takes longer to interpret and understand the traffic situation, or people can fall asleep at the wheel." says Rachel.
Rachel is running fatigue stops on the 24th of Dec and 4th of Jan to target the Christmas and holiday traffic heading south from Te Kuiti.
Warning signs of driver fatigue include blinking frequently, continuous yawning, missing road signs or intersections, and wandering over the centre line or road edge.
"People need to take steps to make sure they are safe on the road. Share the driving when possible and take rest breaks when travelling on your journey".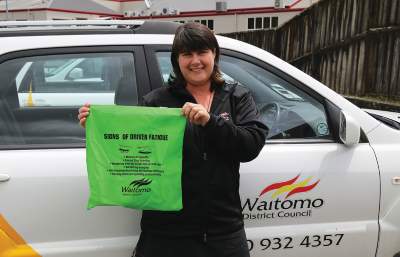 Rachel Stubbs - Road Safety coordinator for Waitomo and Otorohanga District Council's