Students design new signs
27 Feb 2015, 1:50 PM
STORY / ARTICLE: WAITOMO NEWS – www.waitomonews.co.nz
When no smoking signs were needed for the Waitomo District Aquatic Centre, Waitomo District Council turned to the Te Kuiti Primary School students who in 2013 designed smokefree signs for the council's public playgrounds.
Dylan Murray, Alex Young and Weston Gill each came up with a new "Don't be fooled, Smoking is not cool" graphic for the pool.
Their ideas were then combined into a smokefree pool sign featuring an illustration by Dylan and writing designed by Alex.
Waikato District Health Board health promoter Anne Lemieux says the signs were put up earlier in the summer season and she is pleased the council has made the complex smokefree.
"It's keeping children safe from secondhandsmoke and not making smoking in public spacesnormal."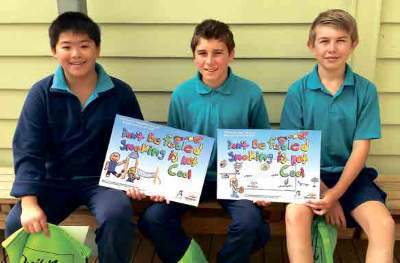 POOLED IDEAS: Alex Young (left), Weston Gill and Dylan Murray who designed a smokefree sign (left) for Waitomo district'splaygrounds in 2013, pooled their ideas again to come up with a smokefree sign for the Hinerangi St aquatic centre.