WDC upgrades road to developing tourist destination
21 Mar 2017, 8:51 AM
Waitomo District Council (WDC) has commenced the sealing of Maraeroa Road. The 1.5km stretch of road provides access from State Highway 30 to Pureora Forest Park, the scenic location of tourist destinations Pa Harakeke and The Timber Trail.
Council has been planning for this work to be completed for over a decade. The NZ Transport Agency supported the funding application for the extension of WDC's sealed roading network. The $817k project is expected to be completed in mid-April 2017.
Mayor Brian Hanna says that the project is an excellent result for WDC.
"The business case reflected that cycling is a high priority activity under the Land Transport policy, and there are contributing factors that highlighted road user safety concerns with Maraeroa Road."
"The road is used by logging trucks and experiences slippery conditions in winter and dust in summer. The road is travelled by people who potentially have less experience in driving on these types of roads in a remote area." Says Mayor Hanna
The decision to seal Maraeroa Road has been described as a godsend for the businesses operating at Pureora according to Glen Katu, CEO of Maraeroa C Incorporation which owns 5,500ha of forestry lands at Pureora.
"Maraeroa C Incorporation which was established in 1973, is grateful that WDC funding has been committed to sealing Maraeroa Road, as the road is very busy now particularly during summer."
"Having a sealed road at Pureora is not a luxury but a necessity due to increased visitor traffic not only from domestic but overseas visitors now." "Pureora Mountain Ginseng also has a plantation and factory close to the Maraeroa Road, and there will be a welcome relief from the dust that is thrown up by vehicles using the road, covering the ginseng plants and the buildings."
"The Timber Trail is fast becoming an Icon in the district and Pureora will soon be a major visitor destination with more than 10,000 people visiting Pureora to ride the 85km Timber Trail this season." Mr. Katu says.
The Pa Harakeke Visitor Centre facility opened in 2009 and provides a range of services to people riding the 85km Timber Trail, including accommodation, shuttle services, bike hire, secure parking and food and beverages. Our passengers and shuttle drivers will have a better experience travelling on the road, and it means less wear and tear on the vehicles.
Pureora is an important eastern gateway to the District, contributing to the local economy and supporting the growth of the Waitomo region.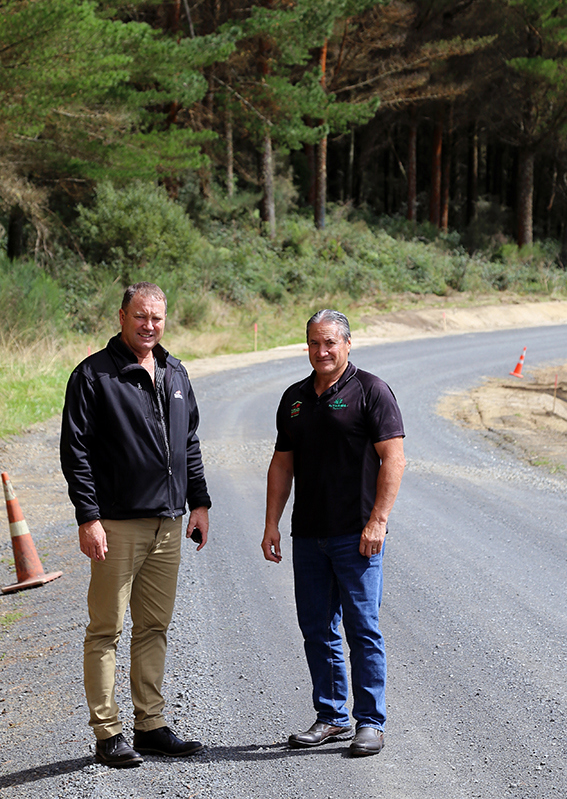 Mayor Brian Hanna with Glen Katu, CEO of Maraeroa C Incorporation at Maraeroa Road.