Vibrant Safe Waitomo achieves Safe Community accreditation
19 Aug 2019, 3:05 PM
Waitomo District Council is delighted to announce that its Vibrant Safe Waitomo application achieved Safe Community accreditation last week.
WDC hosted a meeting of the Vibrant Safe Waitomo (VSW) Regional Coalition in the Council Chambers, on Wednesday 14 August 2019. The meeting was attended by representatives from Safe Communities Foundation New Zealand (SCFNZ), Maniapoto Māori Trust Board, ACC, NZ Police, Representative for MP for Taranaki-King Country, NZ Fire and Emergency, Waikato District Health Board, Oranga Tamariki and the Ministry of Social Development, WDC's Community Development Team and Mayor Brian Hanna.
Over the past 10 years, WDC has been working to improve and enhance the core infrastructure that is necessary to support a growing population. The 2018-28 Long Term Plan marked the beginning of a new pathway for Council to shape Waitomo into a place that we all want it to be - safe and welcoming; a place where families choose to live, work and play. WDC included a key project within the Community Development activity, to facilitate and support the establishment of a Safe Communities model. That model is known as Vibrant Safe Waitomo.
Obtaining Safe Communities Foundation NZ Accreditation formalises the VSW Regional Coalition's understanding of the commitment needed to gain increased safety and to working with our communities in a coordinated way to provide a safe place to live, work, do business and play. The key now is to develop the Strategic Plan so our communities can inform the content to the actions moving forward.
Three assessors from SCFNZ undertook a site visit on the day, they met with groups and discussed some of the project work that is already happening within the Waitomo District and shared their knowledge of other Safe Communities and projects working in their retrospective areas. The assessors were Tania Peters- Director SCFNZ, Laurie Gabites - Board of Trustees of SCFNZ and Tessa Sturley - Community Team Manager of Waimakariri District Council. During the day presentations and discussions were had with the Maniapoto Family Violence Intervention Network, Maniapoto Māori Trust Board CEO, NZ Police, and Club Champs project coordinator.
Mayor Brian Hanna acknowledged the accreditation as a significant milestone for our communities. "This signals that our VSW Regional Coalition is committed to walking alongside our people to have a safer and more vibrant place for us to live, work and play." Hanna said.
SCFNZ Director Tania Peters added that the review team is extremely impressed with the establishment of Vibrant Safe Waitomo, the holistic equity lens, along with the community empowerment approach and the commitment of key stakeholders.
"It is fitting that Safe Communities sits firmly within the well-being space and has the potential ability to connect across many existing work programs and collaborative projects. Congratulations to all involved, the Foundation is delighted to include you in our network and looks forward to continuing to work with you." Peters said.
The VSW application can be viewed here.
Vibrant Safe Waitomo will present on the development and use of their 'Course of Life Safety Matrix' tool at the Safe Communities Foundation National Hui in November this year.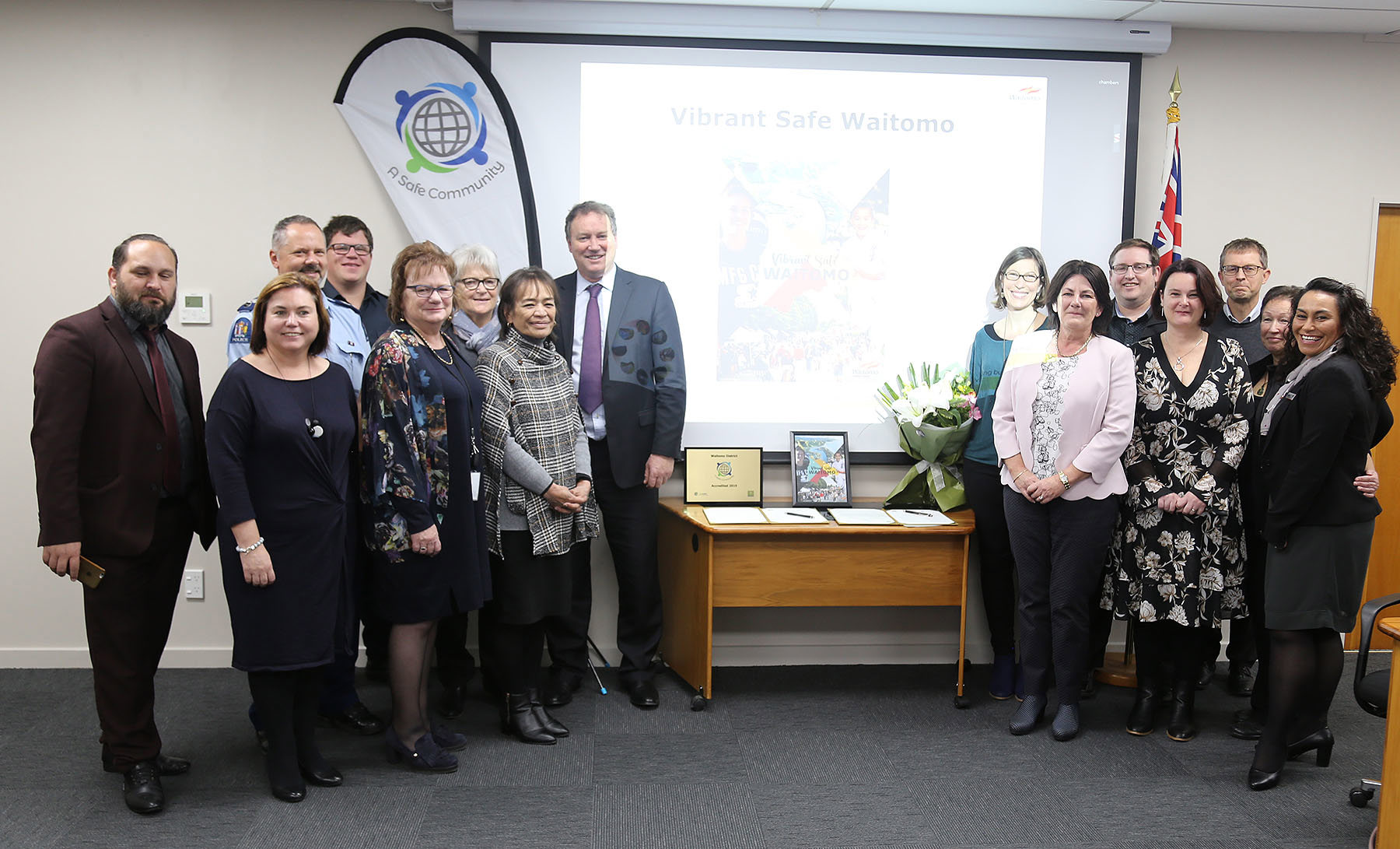 Photo (from left): Nigel Kapa (ACC), Tania Peters (Safe Communities Foundation), David Hall (NZ Police), George Jensen (NZ Fire and Emergency) Gloria Campbell (MSD), Melodie Lyons (Oranga Tamariki), Sonya Hetet (Maniapoto Māori Trust Board), Mayor Brian Hanna (WDC), Louisa Last (Last Word Contractors), Helen Beever (WDC Group Manager Community Services) Regan Webb (Waikato WHB), Claire Davies (MP Office), Greg Morton (Waikato DHB), Anne Lemiuex (Waikato DHB) and Clowdy Ngatai (WDC Community Development Coordinator).