Refuse and Recycling Facilities
We provide Waste Transfer Stations for the disposal of refuse and recycling, in the communities of Maniaiti/ Benneydale, Piopio, Marokopa, Kinohaku, Mokau/Awakino and a fully consented Landfill in Te Kuiti.
Public recycling stations are located at:
Waitomo Village adjacent to the playground on Waitomo Caves Road.
Piopio at Kara Park (shown below).
Mokau village.
Marokopa Transfer Station.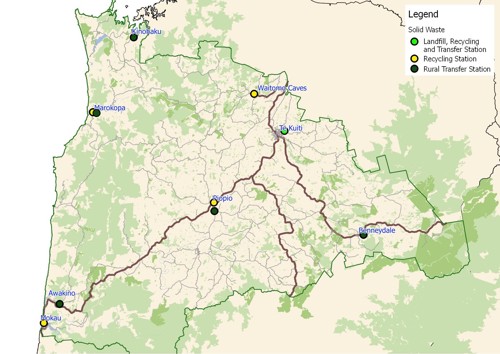 Waitomo District Landfill
Payment options: Cash and eftpos. Large volumes of recyclables can be disposed of at the Landfill recycling area. 
Waste items including paper and cardboard, glass bottles (green, clear and brown) and plastic (types 1 and 2) are collected for recycling.   
The Re-use shop allows for the storage of household items that are in good condition and are available for purchase by the public.
Opening Hours
Location of Waste Transfer Station

Monday

Tuesday

Wednesday

Thursday

Friday

Saturday

Sunday

Te Kuiti
Williams Street

Closed
Closed
9am - 4pm
Closed
9am - 4pm
9am - 4pm
9am - 4pm

Maniaiti / Benneydale
Mine Road

9am - 1pm
Closed
Closed
Closed
Closed
Closed

1pm - 5pm

 

Kinohaku
Corner of Te Waitere Rd and Harbour Rd 

 9am - 1pm
Closed
Closed
Closed
Closed
Closed
1pm - 5pm

Awakino
Manganui Road

(temporary change to opening hours)

Closed
Closed
Closed
Closed
Closed
Closed
9am - 1pm

Piopio
Corner of Aria Rd and Kahuwera Rd

9am - 1pm
Closed
Closed
Closed
Closed
9am - 1pm
1pm - 5pm

Marokopa
Marokopa Rd
(approx 400m east of village)

9am - 1pm
Closed
Closed
Closed
Closed
Closed
1pm - 5pm