Waste Minimisation
Our aim is to create awareness of the benefits of waste minimisation including:
Educating and promoting the benefits of: waste separation at source, recycling and waste minimisation.
Supporting the community initiatives for waste reduction.
Encouraging home composting.
---
Household waste
Recycling separates waste items from the residual waste stream and reprocesses the materials to create new products.   The waste items that we accept for recycling include paper, cardboard, plastic types 1 & 2 only, tin/ aluminium cans, glass bottles and jars.
---
Composting at home
Composting organic and food waste is a great way to reduce the amount of rubbish that goes to the landfill. PLUS it helps  grow a healthy and plentiful garden.
Why compost? 
It helps to reduce the harmful effects of organic waste in landfill (e.g. water pollution, emissions of the potent greenhouse gas methane, and bad smells)
It helps to reduce the need for chemical fertilisers in your garden
It can help families to reduce their household rubbish disposal costs
Check out our composting guide here (PDF 6.32 MB)
---

Phasing out single use plastic
Plastic is one of our greatest environmental challenges as many plastic products are only used once, not properly disposed of, and end up either in the landfill or littering our moana and whenua - which harms our wildlife, environment and climate.
As of 1 October, the Government will be phasing out hard-to-recycle and single-use plastics.
_____________________________________________________________________________________________________________________________________________________________________________________________________
Bokashi
We have some great discounts available if you're interested in started your own Bokashi
Discount code: IOMWL08KD3DP  to save $8.95 when buying  3x 1 kg bags of compost zing
Discount code: P6P1T0U5GQJJ  to save $14.95 when buying 1 x 15L kit and 1x  1 kg bag of compost zing
Discount code: N039ALGHMIUS  to save $26.05 when buying 2x  15L kits and 2 x 1 kg bags of compost zing
Click here (PDF 6.32 MB) to view the products
---
Food waste
New Zealand families waste about $560 each year on food which is thrown uneaten into the rubbish bin. This adds up to a staggering $872 million for the whole country. It also results in 122,000 tonnes of edible food going to landfill and generating greenhouse gases.
Waitomo District Council is proud to be part of the national Love Food Hate Waste NZ campaign which aims to turn this around, by inspiring and enabling people to waste less food. 
For practical tips on how to reduce your own food waste and save money visit www.lovefoodhatewaste.co.nz or check out the facebook page.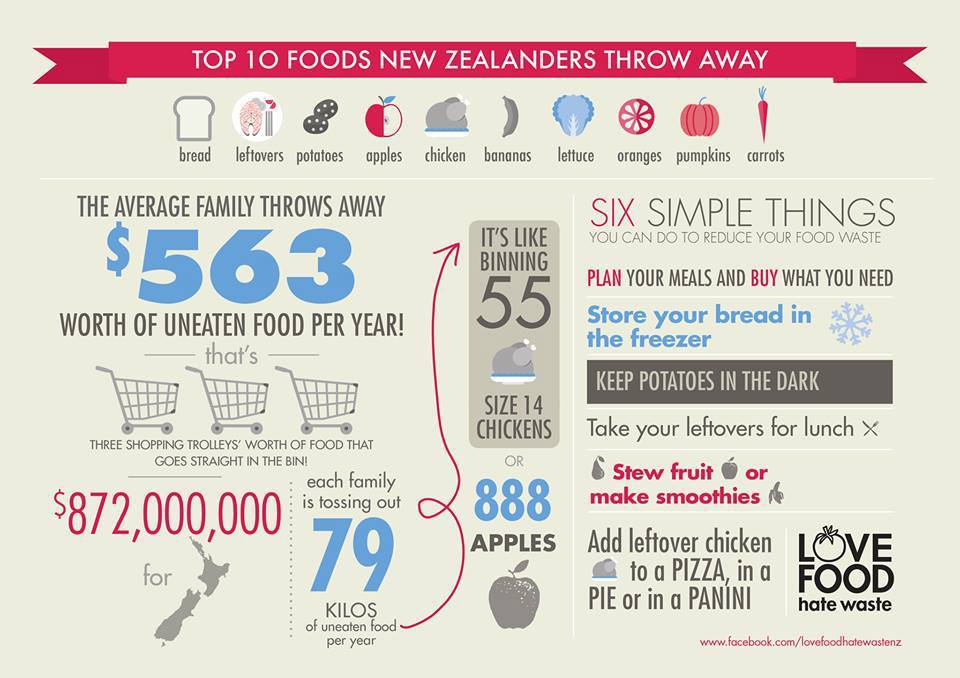 ---
Mobile phone recycling
All mobile phones are accepted regardless of condition (working or non-working), make or model.  There are four steps  to follow before you donate your mobile phone:
If the phone still turns on, disconnect it from any cloud service and complete a factory reset to erase any data from the phone.
Remove your sim card from the phone and keep it.
Leave the battery in the phone.
Switch the phone off.
Now your phone is ready to be donated to RE:MOBILE.  Drop off your unused mobile phone to us and raise money for Sustainable Coastlines. 
We provide a collection bin in our reception area at our Queen Street Office.
---
Fluorescent tube and lightbulb recycling
A free recycling service for energy saving lighting/compact fluorescent lamps and fluorescent tubes is available for households and businesses.
Lighting that contains mercury must be disposed of carefully so it does not let the mercury escape and pollute the environment.
Collection boxes are available at the Waitomo District Landfill and Piopio Transfer Station – please ask the attendant for assistance.
The collection boxes are funded through the Waste Minimisation Levy, which encourages New Zealanders to start taking responsibility for the waste they produce and to find more effective and efficient ways to reduce, reuse, recycle or reprocess waste.
What if my tube/bulb is broken?
Broken tubes should go in the regular rubbish bin to minimise handling.  As a precaution you should wear gloves when handling the broken lamp and open doors and windows to ventilate the room.
Put the broken pieces in a plastic bag then wrap with paper to prevent cuts. Wipe the area with a damp paper towel to pick up any smaller shards of glass, powder or liquid.
Dispose of the paper towels, gloves and any cloths used to clean the area by placing in a plastic bag with your household rubbish.
Do not vacuum the site as this can disperse the particles.​
---
Event Waste Minimisation
We encourage Event Waste Minimisation to ensure that waste is being disposed of in an environmentally friendly manner.   We have developed an Event Waste Management Guide (PDF 3.59 MB)for you to download and complete. If you would like to find out more about waste minimisation at your event, please contact WDC on freephone 0800 932 4357.
---
Electronic Waste (e-waste)
Dispose of your e-waste for recycling at the Transfer Station and help to reduce hazardous waste being sent to Landfill.   The Waitomo District Landfill and rural Waste Transfer Stations accept e-waste for collection. Electronic Waste (e-waste) is waste electrical equipment that has become obsolete, broken or unwanted. This includes computers, computer screens, fax machines, home whiteware, TVs and electrical cables, basically anything with a plug.