Community Update
3 Sep 2015
Kerbside Recycling Collection Service
WDC provides a weekly kerbside recycling collection service for Piopio, Mokau/ Awakino, Waitomo Village (and Rural ward) and Te Kuiti. A Green Bin is assigned to each property located within the service area and we ask that these are placed on the kerbside by 8am on the day of collection.
The green bin is for recycling residential quantities of paper, cardboard, plastic bottles and containers (types 1 & 2), aluminium and tin cans, and glass bottles and jars (green, clear, brown). Prepare your recycling: remove lids and rinse containers, bottles, tins & jars. Squash plastic bottles and tins.
Plain paper, newspaper and cardboard recycling that is the same volume as the green bin, will be accepted through the kerbside recycling collection service. Flatten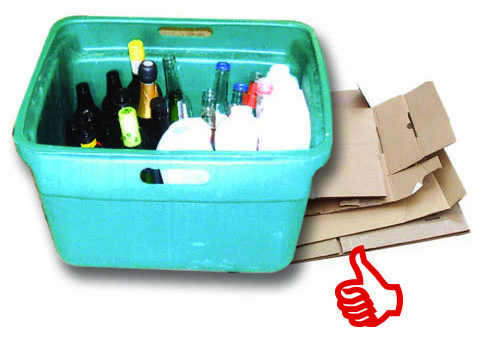 cardboard, stack and secure these items with string and place next to your green bin. The service allows for a weekly collection of one green bin. Mark your properties address on the bin to avoid confusion.
Reasons why a Green Bin won't be emptied
Other recycling bins or containers put out for collection or over-filled green bins.

Bins that contain non-recyclable items e.g. plastic types 3, 4, 5, 6, 7, paint tins, window glass, crockery, appliances, books, clothing, wax coated paper, polystyrene, insulated/ foam cups, food tainted wrap (tinfoil).

Bins that are placed on the kerbside after 8am on the day of collection.
Households and businesses with large quantities of recycling must take this to the Te Kuiti Transfer Station (at Waitomo District Landfill on Williams Street). Free recycling facilities are available. For assistance please see Vicki Ngauma at the Landfill kiosk or phone (07) 878 5230.
Recycling facilities available at District Transfer Stations
Transfer Stations are also located in Benneydale, Piopio, Marokopa, Kinohaku and Mokau/ Awakino. Recycling facilities are available at no charge to the public. Fees do apply to dispose of rubbish not placed in a blue bag.
Marokopa Transfer Station now has a recycling container available that can be used by the public when the station is closed. We ask the public to respect the facility and recycle using the correct compartments. Please do not dump household rubbish.
If you would like to find out the location and opening hours of the District Transfer Stations, please phone our friendly customer services team, visit our website or facebook page.